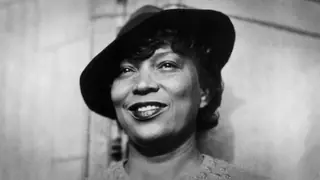 If you're interested in the work of early 20th Century literature by African American authors, Zora Neale Hurston is a writer whose work you should explore. Review this Zora Neale Hurston biography to learn about her life and writings.
Zora Neale Hurston Biography: Early Years Overview
Zora Neale Hurston was born in the small East Alabama town of Notasulga in 1891. Her parents were John Cornelius Hurston II and Lucy (Lula) Potts Hurston. She had seven siblings. Her father was a former slave who was working as a sharecropper at the time Zora Neale was born. Her mother was the child of former slaves who owned a small amount of land in East Alabama.
When she was a toddler, Zora Neale and her parents left Alabama and relocated to the town of Eatonville in Central Florida. While East Alabama had been the Jim Crow South, the part of Florida they moved to was the New South. As a result, life changed drastically for the Hurston family. John served as mayor of the small African American community for several terms. He was also the pastor of Macedonian Baptist Church in Eatonville.

The Lost Years Following Her Mother's Death
Tragedy struck in 1904 when Lucy (Lula) passed away. Zora Neale was just 13 years old when her mother died. While in Eatonville, she attended Hungerford Academy. Her father remarried after her mother's death, after which she was sent to Jacksonville, Florida where her older siblings were living. Two of her siblings were attending Florida Baptist Academy. She joined them at the school for a brief time, but then her father discontinued funding her education. As a result, she left school in 1905.
For the next several years, it is believed that she moved around quite a bit, living with her siblings at different times and doing odd jobs. At one point, she went to Nashville to help care for her brother's children, then left to assist a professional singer who performed with a traveling troupe. While in Baltimore, Maryland with the troupe in 1916, she fell ill and ended up staying with her sister Sara, who was living in the area.
Zora Neale Hurston's Path to Education
Finally, after having to leave school in 1905, Zora Neale Hurston was able to return in 1916. While staying with her sister in Baltimore, she enrolled in Morgan Academy and completed high school. In 1918, she began attending Howard University. There, she developed a passion for literature and continued to advance her interest in the theatre. She met many other African American writers who, along with her, would go on to become the heart and soul of the Harlem Renaissance.
Beginning Her Literary Career
Zora Neale Hurston began submitting her work to literary journals. She won her first literary award in 1924 when her short story Drenched in Light received second place in the annual literary contest held by Opportunity, a publication produced by the Urban League.
Following the suggestion of Charles S. Johnson, editor of Opportunity, she relocated to New York City the following year. She took up residence in Harlem where she befriended other talented writers destined to become fixtures in the literary world, including Langston Hughes. She continued to write and receive accolades and prizes for her work.
While in New York, she developed a keen interest in anthropology. She enrolled in Barnard College and received a scholarship. She began to study anthropology under Franz Boas, who is considered to be the father of modern anthropology.
He had a particular interest in African American culture. He encouraged her to focus on fieldwork that would help preserve her heritage. She traveled within the U.S. and abroad for her studies, including traveling to Haiti, Jamaica, New Orleans, and other areas where she could explore unique aspects of Black history. She incorporated her study of and experience in African American culture into her writing, much of which became her own personal brand of folklore.
Blending Anthropology and Writing
Hurston's career began in earnest after she graduated from Barnard College. She wrote plays, short stories, full-length fiction, and more, all while continuing to pursue anthropology. She wrote prolifically from the early 1930s until the late 1940s.
Examples of her published writings include:
Barracoon
Dust Tracks on a Road
Every Tongue Got to Confess
From Sun to Sun and All De Live Long Day
Jonah's Gourd Vine
Lies and Other Tall Tales
Mules and Men
Tell My Horse

The Gilded Two Bits
The Skull Talks Back and Other Haunting Tales
Their Eyes Were Watching God (made into a movie in 2005)

The Great Day

When Dust Tracks on a Road
Seraph on the Suwanee
These are just a few of Hurston's many works. She continued to write in the 1950s, mostly submitting short stories to magazines.
Zora Neale Hurston married twice, in 1927 and again in 1939. Both marriages ended in divorce. She did not have any children.
Financial Difficulties and Illness
Even though Hurston published many works, she struggled financially through most of her life. She ended up working as a maid and substitute teacher prior to suffering a series of debilitating strokes in 1958. Following the strokes, she resided at the St. Lucie County Welfare Home in Florida until she passed away in 1960.

Get Inspired by Zora Neale Hurston
Now that you are familiar with Zora Neale Hurston's background and biography, take the time to learn more about her work. Start by exploring a selection of Zora Neale Hurston quotes. Then, visit your local library or bookstore and find some of her works to read. Once you have explored her quotes and writings, dig deeper into African American culture by discovering some little-known Black history facts.