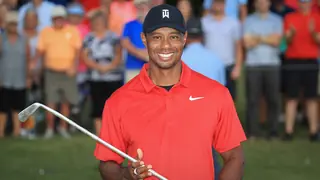 American athlete Tiger Woods (born 1975) is the youngest man ever, and the first man of color, to win the Masters Tournament of golf.
Tiger Woods Biography: Early Years
On April 13, 1997, Tiger Woods made golfing history when he won the prestigious Masters Tournament of golf. The win was a record breaker in many ways. Woods, at age twenty-one, was the youngest person ever to win the Masters Tournament. He beat the competition with a record-breaking score of 270 for seventy-two holes. He secured the win with a twelve-stroke lead, the largest victory margin in the history of the tournament. Woods, a man of ethnic complexity, further distinguished himself as the first non-white to win the Masters, and in doing so he helped to dissolve many stereotypical notions and attitudes regarding minorities in the sport of golf.
Tiger Woods was born Eldrick Woods on December 30, 1975, in Cypress, California. He was the only child of Earl and Kultida Woods. His parents identified their son's talent at an unusually early age. They said that he was playing with a putter before he could walk. The boy was gifted not only with exceptional playing abilities, but he also possessed a passion for the sport itself. Woods first came to notoriety on a syndicated talk show when he beat the famed comedian and avid golfer Bob Hope in a putting contest. The young boy was only three at the time, and he was quickly hailed as a prodigy. Not long after that, when he was five years old, Woods was featured on the popular television magazine That's Incredible!
Woods' father has never denied that he devoted his energies to developing his son's talent and to furthering the boy's career as a golfer. During practice sessions, Tiger learned to maintain his composure and to hold his concentration while his father persistently made extremely loud noises and created other distractions. "I was using golf to teach him about life…. About how to handle responsibility and pressure," his father explained to Alex Tresniowski of People.
All the while, Tiger's mother made sure that her son's rare talent and his budding golf career would not interfere with his childhood or his future happiness. His mother was a native of Thailand and very familiar with the mystical precepts of Buddhism, and she passed this philosophy on to her son.
As Woods' special talents became increasingly evident, his parents stressed personality, kindness, and self-esteem. They impressed upon their son that he was not to throw tantrums or be rude or think of himself as any better than the next person. John McCormick and Sharon Begley of Newsweek said of his parents, "[Tiger Woods is] best-known as perhaps the finest young golfer in history. But to his parents, it's more important that Tiger Woods is a fine young man. It took love, rules, respect, confidence and trust to get there."
In many ways Woods grew up as a typical middle-class American boy. He developed a taste for junk food and an affection for playing video games. He also spent a fair share of his time clowning around in front of his father's ever-present video camera. As for playing golf, there is no question that the sport was the focus of his childhood. He spent many hours practicing his swing and playing in youth tournaments. Woods was eight years old when he won his first formal competition. From that point he became virtually unstoppable, amassing trophies and breaking amateur records everywhere. Media accounts of the boy prodigy had reached nearly legendary proportions by 1994, when he entered Stanford University as a freshman on a full golfing scholarship.
Tiger Woods' College Years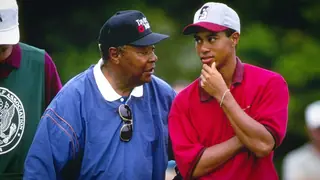 During his first year of college, Woods won the U.S. Amateur title and qualified to play in the Masters tournament in Augusta, Georgia, in the spring of 1995. Although he played as an amateur-not for prize money-Woods' reputation preceded him. Biographer John Strege wrote about that first Masters tournament in Tiger: A Biography of Tiger Woods, "Golf great Nick Price was there. So were Nick Faldo, John Daly and Fuzzy Zoeller, all of them consigned to relative obscurity on this Monday of Masters week. All eyes were on Woods." By 1996, Woods had won three consecutive U.S. Amateur titles, an unprecedented accomplishment in itself. Woods was only twenty years old, yet there was not much else for him to accomplish as an amateur. He carefully weighed the advantages of finishing college against the prospect of leaving school and entering the sport of professional golf.
Tiger Woods Facts: Golfing Career and Personal life
The temptation to turn professional was enhanced by lucrative offers of endorsement contracts. In August of 1996, Woods decided to quit college in order to play professional golf. Four months later in December, Woods celebrated his twenty-first birthday. He marked the occasion with a legal name change, from Eldrick to Tiger. Woods had been called Tiger by his father even as a youngster. The nickname stuck, and Woods had always been known to his friends, and to the press, as Tiger. It soon became evident that he was destined for success. Sports Illustrated named him 1996 "Sportsman of the Year," and by January of 1997, he had already won three professional tournaments. He was an early media sensation and remains so to this day.
Early Professional Career
In April of 1997, and only eight months into his professional career, Woods played in the prestigious Masters tournament held at Georgia's Augusta National Golf Club. The Masters title is perhaps the most coveted honor in the world of golf. In addition to a hefty prize purse, first-place winners are awarded a green blazer to symbolize their membership among the most elite golfers in the world. Contestants are typically well into their thirties or even their forties by the time they win the Masters Tournament. That year Woods competed against golfing greats, but managed to best the most seasoned competition.
When the tournament was over, Woods had made history as the youngest person ever to win the Masters title. His score was an unprecedented 270 strokes. His victory margin set another record-twelve strokes ahead of the runner-up. This feat was enhanced by the fact that Woods was the first man of color ever to win the title. He accepted all of these honors with grace and humility, and gave tribute to the black golfers who came before him and helped pave the way. He also honored his mother (who is Asian) by reminding the world of his diverse ethnic background; he is African-American, Thai, Chinese, Native American, and Caucasian. He discouraged the press from labeling him exclusively as African American, because it showed complete disregard for his mother's Asian heritage. During an interview for the Oprah Winfrey Show, he reiterated an innovative description that he had coined for himself as a child, "I'm a Cablinasian." He was quoted also by John Feinstein of Newsweek, concerning the issue of race, "I don't consider myself a Great Black Hope. I'm just a golfer who happens to be black and Asian."
Less than three months passed until July 6, 1997, when Woods won the Western Open. Critics attributed his astounding success to uncanny persistence and an extraordinary desire to win. "He thinks, therefore he wins," reported the Detroit News, on the day after the Western Open. Woods seemed unstoppable. Some of the greatest golfers in the world offered sportsmanly tribute to the young hero. His enormous popularity and unprecedented success prompted Frank Deford of Newsweek to write, "It's getting so that the only other famous person on the golf circuit is Tiger's caddie … suddenly you understand: there is no second-best golfer in the world…. It is just Tiger Woods." In less than one year as a professional golfer Woods' career winnings totaled over $1,000,000. In addition to prize money earned, he signed multi-million dollar contracts to endorse a variety of products, from sports equipment to investment funds.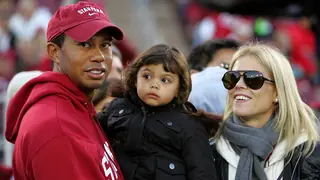 In 2004, Tiger Woods Married Elin Nordegren, a former model from Sweden. The couple had two children, a daughter (Sam Alexis Woods) and a son (Charlie Axel Woods). Sam was born in 2007 and Charlie in 2009. Towards the end of 2009, news related to Woods' marital infidelity with multiple women broke. The story was widely reported and dominated media headlines. Woods lost many endorsement deals in the wake of his infidelity scandal. Tiger and Elin divorced in 2010.
Later Career and Injuries
Woods dominated the sport for more than a decade without interruption, though he did take some time off in 2006 following the death of his father. He had two knee surgeries in 2008. He played and won the 2008 Masters after his first knee surgery, but sat out the remainder of the season during a second knee surgery. He also took a brief hiatus following the infidelity scandal. Since that time, he has continued to play professional golf consistently — and a high level — but has been plagued by injury and multiple surgeries.
By early 2021, Woods had undergone a total of five back surgeries. In January of 2021, an announcement was made that Woods' plans for the 2021 season were on hold as he recovered from his most recent back surgery. On February 23, 2021, Woods was involved in a serious automobile accident leading to hospitalization and surgery for multiple open fractures to his right leg, along with other injuries.
To many observers, Tiger Woods' rise to fame is tied to issues of race and ethnicity as well as to outstanding athletic performance on the golfing course. "Tiger threatened one of the last bastions of white supremacy," wrote Strege in his biography of Woods. Although accusations of racial discrimination had been leveled against the Professional Golf Association (PGA) for many years, little was done. According to Rick Reilly of Sports Illustrated, the Augusta National Tournament founder, Clifford Roberts, once remarked, "As long as I'm alive, golfers will be white, and caddies will be black." Policies were slowly changed to ensure that black golfers would be allowed to compete on a par with whites, but the Augusta National Golf Club didn't accept its first African American member until 1990.
Woods, with his easy style, his unpretentious disposition, and his powerful 300-yard drives, successfully commanded the respect and attention of golf's predominantly white culture. "Golf has shied away from [racism] for too long," Woods commented to Time. "Some clubs have brought in tokens, but nothing really has changed. I hope what I'm doing can change that." Robert Beck of Sports Illustrated called the ethnically diverse golfer, "A one-man Rainbow Coalition." By all reports, he rises graciously to every occasion, handling the media as well as his peers, with tact and aplomb. Joe Stroud of the Detroit Free Press commented, "He is a photogenic young man…. He is about as remarkable a combination of power and finesse as I've ever seen."
Woods is credited too with popularizing the sport of golf, not only among blacks and other minorities, but among children of all backgrounds. Jennifer Mills of Cable-TV explained the depth of the Tiger Woods phenomenon, "He is bringing a whole new set of people to the golf course who have never been here before…. Kids of every race are dying to see him. They look up at what he's doing and for the first time feel, 'Hey, maybe I could do that."' His personal sponsorship of programs for children has been reported for years, and at least one corporate sponsor found that in order to secure an endorsement from Tiger Woods the price would include the added cost of a generous donation to the Tiger Woods Foundation for inner-city children. A Time review of the twenty-five most influential people of 1997 reported, "Woods doesn't simply take his money and play. He conducts clinics for inner-city kids, and he … will create opportunities for youngsters who would otherwise never get a chance."
Further Reading on Tiger Woods
Discover many quotes by Tiger Woods and learn more about his life and accomplishments.
The Second Life of Tiger Woods by Michael Bamberger, 2020
Tiger Woods by Jeff Benedict and Armen Keteyian, 2018
Strege, John, Tiger: A Biography of Tiger Woods, Broadway Books, 1997.
Christian Science Monitor, December 5, 1996.
Detroit Free Press, January 13, 1997; April 14, 1997, p. 1D; April 23, 1997, p. 1D; May 2, 1997, p. 10A; May 7, 1997, p. A1; May 20, 1997; June 11, 1997, p. 3C.
Detroit News, July 7, 1997, 1C.
Newsweek, September 9, 1996, pp. 58-61; December 9, 1996, pp. 52-61; April 28, 1997, pp. 58-62; June 2, 1997, p. 62.
People, April 28, 1997, pp. 89-92; June 16, 1997, pp. 96-102.
Sports Illustrated, December 23, 1996, pp. 29-52; April 21, 1997, pp. 30-46.
Time, April 21, 1997, p. 40.
USA Weekend, May 9-11, 1997, p. 2.
"Unofficial Tiger Woods Web Page," www.geocities.com/Colosseum/2396/tiger.html (January 6, 1998).
"Welcome to Tiger Watch," www.tiger-woods-golf.com/ (January 6, 1998).
Updated by Mary White