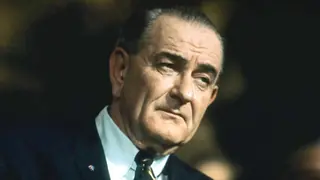 Lyndon B. Johnson is most well-known for his role as the 36th president of the United States of America. He accomplished a lot during the six years he spent in office, but his contributions to the greater good began well before he took the oath of office.
Early Life of Lyndon Johnson
A native Texan, Lyndon B. Johnson (LBJ) was born on August 27, 1908 near the small town of Stonewall in the Texas Hill Country. He was the firstborn child of Sam Ealy Johnson, Jr. and Rebekah Baines Johnson, who later had four more children. When he was five years old, the Johnson family relocated to Johnson City, Texas, where he began his formal education.
After graduating from high school in Johnson City, LBJ moved to California for about a year. He worked various jobs, then returned home and secured employment doing road construction work. He then enrolled in Southwest Texas State Teachers College and worked his way through school. He earned a Bachelor's degree in Education in 1930, ultimately relocating to Houston to teach public speaking at Sam Houston High School.
Early Career in Washington, D.C.
LBJ was exposed to politics from an early age, as his father served in the Texas legislature for five terms before pursuing farming as a career. After teaching for a short while, LBJ relocated to Washington, D.C. to serve as secretary for Congressman Richard Kleberg, who had been elected in 1931. In this role, he began to learn about the United States Congress and developed an interest in the federal government.
Presidential Appointment in Texas
Shortly after his 1934 marriage to Claudia (Lady Bird) Alta Taylor, Johnson left his job in D.C. and returned to Texas. He did so because President Franklin D. Roosevelt appointed him to serve as the Texas Director of the National Youth Administration (NYA). This Roosevelt-era educational program offered vocational training to unemployed youth and provided part-time employment for impoverished students.
Congressional Representative Johnson
In 1937, LBJ successfully ran to fill an open position in the United States House of Representatives that became available after the death of James P. Buchanan. In his campaign, he made it clear that he fully supported Roosevelt's New Deal platform.
LBJ joined Congress that spring and quickly got to work fighting to improve the lives of the American people. He focused on critical issues such as striving to eliminate public waste, making provisions for public housing and helping to expand electricity into rural parts of the country.
Lyndon Johnson's Military Service
In 1941, just after Pearl Harbor was bombed, Johnson volunteered for active duty in the United States Navy. (He was already a Lieutenant Commander in the Naval Reserve.) He immediately reported to active duty. His wife, Lady Bird Johnson, oversaw his Congressional office until he returned from overseas service in June of 1942. During his deployment, he was awarded a Silver Star.
In 1948, Johnson ran for and was elected to serve in the United States Senate. In 1951, he was elected to serve as the Majority Whip. Just two years later, he was elected to the role of Minority Leader. He was elected to a second Senate term in 1954, an election in which Democrats gained control of the Senate. He was elected to serve as Majority Leader.
Vice President Lyndon Johnson
In 1960, the successful presidential campaign ticket featured John F. Kennedy for president and Lyndon B. Johnson for vice president. The pair were elected in November of that year and sworn into office on January 20, 1961.
President Lyndon B. Johnson
After President Kennedy was assassinated on November 22, 1963, Lyndon B. Johnson became the 36th President of the United States. He was 55 years old when he took the oath of office. In July of 1964, LBJ signed the Civil Rights Act of 1964 into law. He was elected to a full term in 1964, so he served as president from 1963-1969.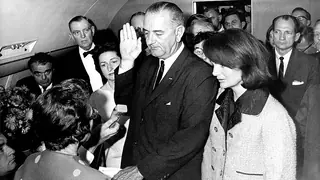 Key Lyndon B. Johnson Accomplishments
For Lyndon B. Johnson, civil rights will always be part of his legacy. He will forever be known as the president who was in office when the Civil Rights Act of 1964 was enacted. That is a major accomplishment, but it is certainly not his only one. LBJ's career is filled with notable achievements toward his vision of a Great Society.
His efforts in Congress led to the establishment of the Pedernales Electric Company in Texas, the country's first (and still largest) electric cooperative.

His work in Congress also led to the establishment of Santa Rita Courts in Austin, Texas, as the country's initial federal public housing project.
While in the Senate, LBJ played a major role in getting the Civil Rights Act of 1957 passed. It was the first piece of federal civil rights legislation in over 80 years.
During the Korean War, LBJ served as chair of the Preparedness Investigating Subcommittee of the Senate Armed Services Committee.

Also in his role with the Preparedness Investigating Subcommittee, LBJ began hearings that led to the beginning of space exploration by the U.S.
As a result, he was very involved in guiding the introduction and passing of the National Aeronautics and Space Act of 1958.
At President Eisenhower's request, LBJ presented a resolution to the United Nations to call a commitment to peacefully explore outer space.
LBJ had many duties as vice president. In addition to being a Cabinet member, he was also a member of the National Security Council.
He also served in several organizations, including the National Aeronautics and Space Council, the President's Committee on Equal Employment Opportunity and the Peace Corps Advisory Council.
LBJ enacted several civil rights laws during his presidency, including the Voting Rights Act, the Economic Opportunity Act and the Fair Housing Act.
He enacted many other types of laws, including the Freedom of Information Act, the Public Broadcasting Act and the Air Quality Act.
In 1967, LBJ appointed Thurgood Marshall to the Supreme Court. He became the first Black Supreme Court Justice.
Lyndon Johnson died on January 22, 1973 at the age of 64. He experienced a massive heart attack ten days before he passed away. This was not his first heart attack. He suffered at least two heart attacks prior to this one and also suffered from diverticulitis. Following a 1972 heart attack, he was told that he needed bypass surgery, but could not undergo a procedure due to the already very poor condition of his heart.
More About Lyndon Johnson
In addition to being an influential political leader, President Johnson was a beloved family man. Lyndon and Lady Bird Johnson had two daughters, Lynda Bird Johnson and Lucy Baines Johnson. Learn more about his outlook on the world by reviewing a selection of quotes by Lyndon B. Johnson.