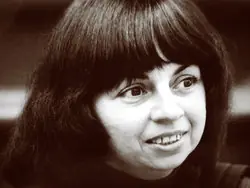 Gloria Anzaldua in 1980.
In the late 1980s, feminism and sexual fluidity weren't as freely discussed as they are today. But, Gloria Evangelina Anzaldúa was talking about it. As if these two topics weren't hefty enough, Anzaldúa was also opening America's eyes to the Chicano, or Mexican-American, culture and the marginalization that comes when one lives as a minority.
What is Gloria Anzaldúa best known for? Her fearlessness and clarity of voice. She was a writer who didn't hide in the shadows. Rather, she encouraged everyone to be proud of their culture, gender, heritage, and identity. Ready to meet this beacon of hope?
Born on September 26, 1942, Anzaldúa was a proud descendent of Spanish explorers who came to the Americas in the 16th and 17th centuries. Anzaldúa is an indigenous name to the Basques, an ethnic group from northern Spain.
For the first 10 years of her life, Anzaldúa grew up on her family's ranch in southern Texas. At the age of 11, her family relocated to Hargill, Texas. In 1968, she earned her Bachelor of Arts (B.A.) degree in English, art, and secondary education from the University of Texas. She then went on to earn her Master of Arts (M.A.) in English and education.
From there, Anzaldúa moved to California and began teaching about feminism, Chicano studies, and creative writing at San Francisco State University, the University of California, and other universities.
In 1987, Anzaldúa wrote a semi-autobiographical novel titled Borderlands/La Frontera: The New Mestiza. It details her life growing up on the Mexico-Texas border. In her experience, women in the Chicano and Latino culture were subject to male dominance, amongst other inequities. Also, as far as she could see, the lesbian community was severely oppressed.
The New Mestiza Consciousness
Anzaldúa coined the term "The New Mestiza," proclaiming a higher consciousness where gender norms no longer apply. She believed having to label yourself as one gender or the other stifles creativity, especially in a culture where women were considered inferior to men.
The New Mestiza Consciousness is meant to be a survival strategy. It embraces ambiguity and contradiction. She wrote, "Ignorance splits people, creates prejudices. A misinformed people is a subjugated people." Anzaldúa believed writing possessed transformative powers and was willing to bare her soul in an effort to open the worlds' eyes to social injustice.
Throughout her childhood, Anzaldúa felt isolated and alone in her border town. She expressed these sentiments in a series of essays in the first half of Borderlands. The second half of the book is filled with highly personal poetry.
Borderlands isn't merely about geographical borders; it is more about the racial, religious, and sexual borders we place upon ourselves and others. In both sections, Anzaldúa used two variations of English and six variations of Spanish. She deliberately made it difficult for someone who isn't bilingual to read.
Anzaldúa continued to highlight inclusivity in another one of her works, Speaking In Tongues: A Letter To Third World Women Writers. In this essay, she made the case that female writers of color face a severe lack of privilege. Beyond that, she believed women were stifled in their writing, unable to speak their truths.
In the last years of her life, Anzaldúa explored more of her personal philosophies with Light in the Dark/Luz en lo Oscuro. Healing, personal identity, social justice, and transformation are discussed. Unfortunately, she died before it was completed.
Editor AnaLouise Keating pieced together Gloria's work with honor and dedication through a series of notes, emails, outlines, chapter drafts, conversations, and computer files. Keating remained true to the writing style Anzaldúa used in Borderlands. Subsequently, Light in the Dark was published posthumously.
To further experience Anzaldúa's philosophy of freedom, enjoy any one of her other published works. She either had a hand in editing or writing the following pieces:
This Bridge Called My Back: Writings by Radical Women of Color (1981)
Making Face, Making Soul/Haciendo Caras: Creative and Critical Perspectives by Feminists of Color (1990)
Prietita Has a Friend (1991)
Friends from the Other Side/Amigos del Otro Lado (1995)
Prietita y La Llorona (1996)
Interviews/Entrevistas (2000)
This Bridge We Call Home: Radical Visions for Transformation (2002)
The Gloria Anzaldúa Reader (2009)
In 2004, at the age of 61, Anzaldúa died in her home in Santa Cruz, California. Although she died from complications relating to diabetes, Anzaldúa faced many health complications throughout her life. She was plagued with an endocrine condition that caused her to stop growing at the age of 12.
Despite her stunted growth, Anzaldúa also wrote about the fact that she began menstruating at a very young age. In 1980, at the tender age of 38, she underwent a hysterectomy, removing her uterus, due to cervical, ovarian, and uterine abnormalities.
Writing as a Means to Transformation
Gloria Anzaldúa was quick to assert that writing possesses transformative powers. She used it as a platform to encourage equality for all genders, races, and sexual orientations. It also brought her tremendous healing from a childhood rife with loneliness, marginalization, and confusion.
You can do the same. Tell your truth through the written word. Why not start with an essay or short story? Take a look at Get Creative: How to Write a Short Story and see how your world can transform, starting today. The moment you type those first few words is the moment you open the door to new influences, philosophies, and revolutions.