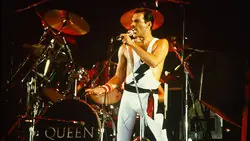 Freddie Mercury is best known as the frontman for the iconic band Queen. His tragic death in 1991 at age 45 after battling AIDS could not overshadow the last words Freddie Mercury said to the world and the people closest to him.
Freddie Mercury's Last Word Controversy
While you can find threads on sites like Quora claiming that Freddie's last words were "pee pee," there doesn't seem to be any hard evidence that this is true.
Freddie Mercury's Last Days
Some, but not all, of Freddie's close friends have shared the last words Freddie ever said to them. Many of these words came during visits in Freddie's last days of life.
Last Words to His Assistant
Freddie's long-time assistant Peter Freestone shares the last words Freddie ever said to him were:
"Thank you."
Last Words to His Ex-Girlfriend
Mary Austin, Freddie's ex-girlfriend, shared in a 2013 interview something Freddie said in his last days that made her really upset. As they watched a video of his last performance with Queen, Freddie said:
"To think I used to be so handsome."
In his book Love is the Cure: On Life, Loss and the End of AIDS, Elton John reveals that the final words Freddie ever said to him came in the form of a note given to him after Freddie died. The note was from Freddie with a Christmas gift and referenced fun names they sometimes used saying:
"Dear Sharon, I thought you'd like this. Love, Melina. Happy Christmas."
Freddie Mercury's Last Words on Camera
As a frontman, Freddie spent a lot of time on camera. Even in his last year of life, he recorded a music video.
The 1990 BRIT Awards was Freddie Mercury's last public appearance on TV. Although guitarist Brian May did most of the talking during Queen's acceptance speech, Freddie stepped up to the mic at the end and said:
"Thank you. Goodnight."
The video for These are the Days of Our Lives was recorded in 1991 months before Freddie passed. At the end of the video, he looks directly in the camera and says the final line of the song:
"I still love you."
Freddie Mercury's Last Interview
His last video interview was in 1987 with friend Rudi Dolezal. The interview was brief and at the end Freddie introduces his latest song saying:
"Hello my name is Freddie Mercury and this is my latest recording The Great Pretender."
Four years after he died, Freddie was found alongside his bandmates on the album Made in Heaven. Freddie's vocals on the album were a combination of material from shortly before his death and earlier years.
Last Written and Recorded Song
Freddie's Queen bandmates shared in an interview that Mother Love was the last song Freddie wrote and recorded in the studio with them. Brian May admits to singing the last verse of Mother Love on the album because Freddie hadn't finished recording it.
While it's not clear what order he wrote the lyrics in, the last line of the song is:
"I think I'm goin' back to the things I learnt so well in my youth."
Six weeks before Freddie passed away, Queen's song The Show Must Go On was released off their last album together. The last words he sings in this song are:
"Show must go on, go on, go on, go on, go on, go on, go on, go on."
Freddie Mercury's Last Performance
Queen's last live performance with Freddie Mercury was in 1986. The show was called A Night of Summer Magic and took place in Hertfordshire. The final song they performed was
, with the last lyrics being:
"No time for losers. 'Cause we are the champions."
Freddie Mercury fans young and old can remember the great singer through all of his songs, performances, and interviews. If you're fascinated by the last words of great men, check out Steve Jobs' last words.