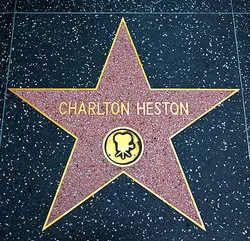 Many of us have heard of Charlton Heston's stardom. Let's take a look at some of the details and circumstances surrounding his death.
Charlton Heston died on April 5 in 2008. Having been born on October 4, 1923, meant that he was just about half a year shy of his 85th birthday when he passed away.
His family did not say the cause of his death. They released a statement saying,
"Charlton Heston was seen by the world as larger than life. He was known for his chiseled jaw, broad shoulders and resonating voice, and, of course, for the roles he played. No one could ask for a fuller life than his. No man could have given more to his family, to his profession and to his country."
Clearly, he was a very loved man. He died in his home in Beverly Hills, California. His wife of 64 years, Lydia Clarke, was with him when he passed away.
Heston had two children who are still living as well. Their names are Fraser Clarke Heston and Holly Ann Heston, the latter of whom was adopted.
On April 12, his funeral was held at the Episcopal Parish of Saint Matthew's Church, located in Pacific Palisades, California. Heston had been going to this church for over 25 years at the time of his passing. More than 250 people came to his funeral. His body was cremated, and his family was given the remains.
Charlton Heston's Health Before Death
Starting in 1996, he started to have some issues with his health. He was 72 years old at that time, and that is when he had to have a hip replacement. Two years later, he was diagnosed with prostate cancer. He went for treatment and went into remission.
However, health issues kept appearing for Charlton Heston in the years before his death. In 2000, he said that he had been treated for alcoholism for approximately a month in a Utah clinic during that time period. On August 9, 2002, Heston came out to the public with the announcement that he had been diagnosed as having symptoms that are characteristic of Alzheimer's Disease.
Alzheimer's Disease can progress at different levels. However, those close to him were saying that they were surprised at how quickly the disease was affecting Heston by March 2005. Therefore, it does appear that the illness made him quite sick rather quickly. People have lived up to 20 years after being diagnosed, although the average amount of time is approximately eight years.
A few months later, in August of 2005, there were reports that he was brought into the hospital because of pneumonia. Those reports were confirmed by a valid source.
By the early middle part of 2006, reports were coming out that his disease had progressed, and his family was not sure if he would make it through the year. However, he survived for another two years.
Charlton Heston died in 2008. A few weeks before his death, a report came out saying that he was in the final stages of Alzheimer's.