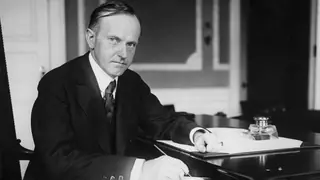 Only one U.S. president was born on July 4. It's not Ann Landers, Neil Simon or Gina Lollobrigida, although they were all born on the 4th of July. And Malia Obama, daughter of President Barack Obama was born on July 4, 1998, but she'll have to wait a few years still if she wants to follow in her father's footsteps and become the 2nd U.S. president born on July 4. Learn about the only president born on the 4th of July, along with some fun facts.
Calvin Coolidge: Only US President Born on July 4
The only American president to have been born on the 4th of July is Calvin Coolidge. The 30th president of the United States was born on July 4, 1872, in Plymouth Notch, Vermont.
Calvin Coolidge Younger Years & Political Life
Born John Calvin Coolidge Jr., he was the first of two children born to John Calvin Coolidge Sr. and Victoria Josephine Moor. Coolidge's younger sister, Abigail Grace Coolidge, died at the age of 15, just six years after his mother had passed away, presumably from tuberculosis.
Coolidge Sr. went on to remarry and live a life of public service on a local level while his son moved to Massachusetts to learn and practice law. There, the future president rose through the political ranks holding positions as City Councilman, City Solicitor, Representative in the state legislature, mayor of Northampton, MA, Massachusetts State Senator, Lieutenant Governor, and Governor of Massachusetts. All of this happened from 1898 to 1918.
In 1920, Calvin Coolidge was selected to run for Vice President alongside Ohio Senator, Warren G. Harding. At the time, the office of vice president did not come with many official duties, but Coolidge became well-known in Washington society, probably due more to the outgoing nature of his wife Grace than anything else.
In 1923, while on a speaking tour in California, President Harding died suddenly of a heart attack, according to the Naval doctors who examined him. Harding's wife, Florence, would not consent to an autopsy, leading some to believe that she had been involved in a plot to kill him. Nonetheless, Harding's death meant that Calvin Coolidge would succeed him as the 30th president.
30th President of the United States
Calvin Coolidge was sworn in by his father, a notary public, in his family home in Vermont on August 3, 1923 at 2:47 a.m. The following day, he returned to Washington, where he was resworn by District of Columbia Supreme Court Justice Adolph A. Hoehling.
The next year, 1924, Coolidge was elected president in his own right. He served one term and chose not to run for re-election in 1928, but instead return to Northampton with his wife. There, he served as chairman, honorary president, director, trustee, and board member to various organizations, societies, foundations and colleges.
Death and Legacy of Silent Cal
Calvin Coolidge, who is the only U.S. president born on July 4, died suddenly of a heart attack on January 5, 1933. However, the legacy he left as president has prospered. Known by the nickname "Silent Cal," the president born on the fourth of July believed the government should be silent to be the best. As an experienced politician, Coolidge took part in press conferences and chats, but he just believed that the government should do its best not to interfere in order to be great. Hence his nickname, Silent Cal.

US Presidents Who Died on July 4
Although Calvin Coolidge is the only U.S. president born on July 4, three of our founding fathers, Thomas Jefferson, John Adams, and James Monroe, all died on Independence Day. Interestingly, Jefferson and Adams both died on July 4, 1826, leaving Charles Carroll as the last remaining signer of the Declaration of Independence 50 years to the day after they signed it.
Like his friend, John Adams died in 1826 at the age of 90. Like Jefferson, there weren't any suspicious circumstances following his death. However, some historians speculate that both prolific leaders were holding on for the anniversary of the country's independence.
The third president to die on July 4th was James Monroe. The 5th president of the United States, Monroe died on July 4, 1831. Monroe's death was from natural causes after a continuous decline of his health.
Other Famous Figures Born on July 4
While Calvin Coolidge was the only vice president and president born on July 4th, you can find a few other famous historical figures sharing his birthday.
Prolific writer Nathaniel Hawthorne (1804)
American composer Stephen Foster (1826)
Politician Reuben Fenton (1819)

Fashion model Gina Lollobrigida (1927)
Cartoonist Rube Goldberg (1883)
Yankees owner George Michael Steinbrenner (1930)
Calvin Coolidge, the only U.S. president born on July 4, spent half of his life in office serving and protecting the people of Massachusetts and the citizens of the United States, following in the footsteps of the three founding fathers who died on his birthday, and setting the example for future leaders. And who knows? Perhaps in the next few decades, another president who was born on July 4 will take the Oath of Office and lead the United States in wisdom and progress just as Coolidge did. Learn more about famous leaders of this country by looking at which president served 3 terms.