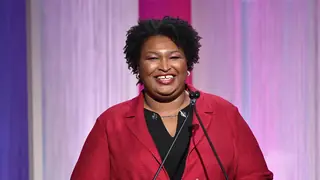 Stacey Abrams is a name that is often mentioned in news headlines and discussed in political conversations. Are you wondering, "Who is Stacey Abrams?" Her impressive background includes experience as an activist, politician, attorney, and published author. Review this brief overview of Stacey Abrams' bio for highlights of her experience and accomplishments.

CEO and Founder of Fair Fight
Following her 2018 campaign for governor, Stacey Abrams founded Fair Fight, a nonprofit organization, and Fair Fight Action, a political action committee (PAC), both based in Georgia. The two organizations share a joint website, FairFight.org.
Fair Fight focuses on promoting free and fair elections, both in Georgia and throughout the nation. The group uses a variety of strategies, including voter education, encouraging voter participation and seeking election reform.
Through direct initiatives and partnerships, the Fair Fight Action PAC advocates for voting rights and the election of progressive leaders who support voting rights.
Stacey Abrams and Fair Fight are credited with having a significant impact on the results of the 2020 Georgia Senate races, in which Democrats Raphael Warnock and Jon Ossoff defeated two incumbent Republican senators.
In 2017, Stacey Abrams resigned from her seat in the Georgia House of Representatives in order to run for governor in the 2018 election. She won the Democratic nomination, becoming the first Black woman to ever be the gubernatorial nominee of either major U.S. political party. Abrams faced Republican nominee Brian Kemp in the General election. Ultimately, Kemp won the election, receiving 50.2 percent of the vote to Abrams' 48.8 percent.
Georgia State Representative
Stacey Abrams served in the Georgia House of Representatives for ten years, from 2007-2017. For part of that time (2011-2017), Abrams served as the House Minority Leader for the Georgia General Assembly. She was the first woman to serve as leader for either party in the General Assembly. She was also the first African American to lead the House. She served on several committees during her time in the state legislature.

Before being elected to the Georgia House of Representatives, Abrams had significant work experience in the public and private sectors. She has been involved in several entrepreneurial ventures. Highlights include:
She co-founded and served as Chief Administrative Officer (CAO) and Senior Vice President of NOWaccount Network Corporation, a company that provides small businesses with a payment system to help improve cash flow. The company continues to operate, though Abrams is not currently involved in day-to-day operations.
She co-founded the now-closed Nourish, Inc., a beverage company that produced formula-ready bottled water for babies and sippy cups for toddlers. Faced with an inability to secure funding to fulfill orders, this company ended up closing.
Abrams served as Deputy City Attorney for the City of Atlanta from 2003-2006.
She worked as a tax attorney for the Atlanta firm of Sutherland, Asbill & Brennan. Her specialty focused on tax-exempt organizations, though she also worked with clients in healthcare and public finance.
Stacey Abrams is a New York Times best-selling author. She has works of fiction and nonfiction to her credit.
Between 2001 and 2009, Stacey Abrams published eight romance novels under the pseudonym Selena Montgomery. The earliest titles are out of print, but several remain available in paperback and Kindle formats.
Rules of Engagement (out of print)
The Art of Desire (out of print)
Power of Persuasion (out of print)
Never Tell (out of print)
Hidden Sins
Secrets and Lies
Reckless
Deception
Stacey Abrams has an impressive educational background.
She holds a J.D. from the Yale Law School.
She also holds a M.P.aff. in public policy from the University of Texas at Austin, where she studied in the Lyndon B. Johnson School of Public Affairs.
She earned her undergraduate degree from Spelman College. She holds a B.A. in Interdisciplinary Studies, emphasizing Political Science, Economics and Sociology.
She graduated from Avondale High School in DeKalb County, Georgia.
Stacey Abrams was born in Madison, Wisconsin in 1973 to Robert and Carolyn Abrams. The couple had six children; Stacey was the second oldest. Robert was a dockworker and Carolyn was a school librarian. The family moved to Mississippi when Stacey was a small child, then relocated to Atlanta when she was a teenager.
Abrams' parents stressed (and modeled) the importance of education, service and taking care of one another. In Atlanta, Robert and Carolyn Abrams both attended graduate school and became ordained ministers in the United Methodist Church. Stacey's parents later returned to Mississippi to work as ministers. Stacey left Atlanta for graduate school, but returned to Georgia after graduation, where she remains. Abrams is single and does not have children (as of early 2021).

Highlights of an Impressive Career
Stacey Abrams' full career involves much more than what is discussed in this brief list of some of her most impressive experiences and accomplishments. Her work promoting voting rights and progressive politics is expected to continue and expand in scope and influence. She was nominated for a Nobel Peace Prize in February 2021 for her work promoting voting rights and registering voters. Discover some examples of civil rights to understand some key issues related to the work of Stacey Abrams and Fair Fight in the quest to protect voting rights and the principles of democracy.