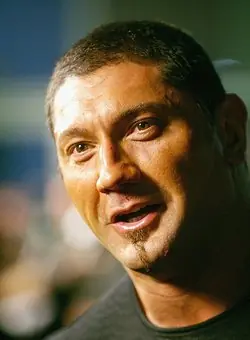 Dave Bautista is an actor and former professional wrestler (wrestling under the ring name Batista) and he has been married three times. His first wife was Glenda. They were married in 1990 and divorced in 1998.
Dave Bautista's First Wife
Wrestlers often do not achieve the same level of fame as other athletes. Therefore, perhaps you should not be surprised that Bautista's early personal life, including information about Glenda, did not circulate through the rumor mill.
Dave Bautista married his first wife in 1990. Her name is Glenda, and we know that they were married for eight years and had two children. However, the exact lengths and dates of their courtship are relatively unknown.
Dave and Glenda had two children together:
Keilana was born in 1990
Athena was born in 1992
Keilana has two children herself, twins Jacob and Aiden. Therefore, Dave and Glenda are also grandparents, although they are relatively young. Dave was born in 1969.
In October 1998, Dave married again, this time to Angie. Angie came into the marriage with a daughter who is now in her mid-20s; so, Dave had a stepdaughter in addition to his other two daughters. However, Dave and Angie's marriage did not last any longer than his first marriage. Dave and Angie were divorced in 2006, making for another eight-year long marriage.
In October of 2007, after his autobiography Batista Unleashed was published, Bautista was quoted in the Miami Herald as saying this about Angie:
[We] have really become close again, which we really haven't been in years. I really learned a lot about her, and she learned a lot about me from reading the book. She actually saw things from a different perspective from reading the book. So that was definitely therapeutic.
In October 2015, Bautista married his third wife, competitive pole dancer Sarah Jade, who also runs pole dance workshops at her pole dancing and fitness center in Tampa, Florida. She is almost 20 years his junior.
Will there be a fourth wife for Dave Bautista? Who knows what the future holds for Bautista and his romantic or professional life.