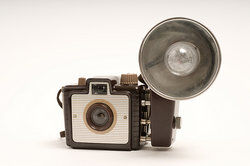 Many of the first ladies had careers and interests outside of White House activities before, during and after their husbands' presidential time. Jacqueline Kennedy Onassis, before marrying John F. Kennedy, was a writer and poet. She graduated from college and then went to work for a newspaper and worked as a writer and photographer, also known as a photojournalist.
First Lady As Photographer
Jackie worked for the Washington Times-Herald as a "Camera Girl." Her job was to interview people on the street with the question of the day and report back. Eventually, she made the questions more political, since she often had contact with politicians and their families.
After marrying John F. Kennedy in 1953, she ended her photography career and limited her writing aspirations to political correspondence on behalf of her senator husband: responding to mail, helping to edit his book, or helping to draft his political correspondence.
While her actions seemed limited on the outside, she had great influence with her husband and within the greater audience of the American people. Her interest in the arts fueled her husband's interest after he became president. She was able to help artists through her husband's presidency. In addition, her wardrobe and fashion sense become iconic and often imitated throughout his presidential career and after she left the White House when JFK was assassinated.
The title of First Lady goes to the wife of the incumbent president. However, should the current president not have a wife, the title would go to the female that would perform the duties of White House hostess.
First Ladies have a unique position in that they are highly visible, have the ability to affect political, social and cultural arenas, and yet receive no pay and are not voted into these positions of political power. Often, their personal interests and the social and cultural zeitgeist determine the causes that they will fight for during their husband's presidency and beyond. Over time, the First Ladies have morphed from White House hostess to a more substantive role affecting real change in the country.
Some first ladies had careers prior to their assignment as the White House social director. Jackie Kennedy was a photojournalist before she met and married her husband, John F. Kennedy. Her job as a photojournalist may have even helped to prepare her for life as a politician's wife since many of her dealings lead her to meet and work with politicians and their families.