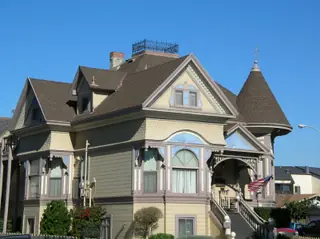 John Steinbeck was one of the greatest American writers of the twentieth century. He liked to examine the working class, and his novel The Grapes of Wrath accomplished this so well that it won a Pulitzer Prize. Although you have probably studied John Steinbeck at one point or another in school, how much do you really know about him?
John Steinbeck's full name was John Ernst Steinbeck. He was born on February 27th in 1902. He was born in Salinas, California to German and Irish parents. At that time, Salinas, California was basically a frontier town.
He was named after his father, and his mother's name was Olive Hamilton.
Steinbeck's father worked as the Monterey County Treasurer, and his mother was a former school teacher. His mother helped encourage Steinbeck's love for reading, and particularly for writing.
By exploring his hometown, as well as working on ranches during his childhood, Steinbeck was exposed to many of the working class issues and problems about which he would later write.
Steinbeck's Education and Early Writing
Although Steinbeck attended Stanford University, he did not graduate and he left the school in 1925 without obtaining a college degree. He moved to New York to pursue his writing, and picked up odd jobs to pay for his necessities.
The continual failure to get published forced Steinbeck to ultimately move back home to California where he worked as a tour guide at a fish hatchery in Tahoe City. While working as the tour guide, he met his future wife, Carol Henning. She was a tourist on one of his tours.
In 1930, he married her and they moved to Pacific Grove in California. His parents continued to encourage Steinbeck's writing and abilities. His father allowed Steinbeck and his wife to live in a house owned by the family without paying rent. Although Steinbeck was working at a factory in the late twenties, his father loaned him money so Steinbeck could quit the job and focus on writing.
In 1929, Steinbeck's first novel was published but it was not successful. It was called Cup of Gold, and it examined the life of the pirate Henry Morgan and his capture of Panama.
After his return to California, Steinbeck began to write fiction which was based on what he knew. He published short stories about rural life. In 1933, he published his second novel, To a God Unknown, the story of man's relationship to the land.
In 1935, Steinbeck was able to publish his first commercially successful writing entitled Tortilla Flat. The novel focused on a group of countrymen in the time after World War One, and their attempt to enjoy life. This was followed by The Log from the Sea of Cortez in 1940, which chronicles Steinbeck's voyage around the Gulf of California.
Unfortunately, as Steinbeck's professional life continued to improve, his personal life suffered. In 1943, Steinbeck divorced Carol. However, this was quickly followed by a second marriage to Gwyndolyn Conger. Again, Steinbeck's marriage didn't last, and in 1948 they divorced. Finally, in 1950 Steinbeck married Elaine Scott and this marriage lasted until Steinbeck's death.
Despite the turmoil in his personal life, Steinbeck continued writing novels. He began to focus on the lives of migrant laborers in California, and the novels In Dubious Battle, Of Mice and Men, and The Grapes of Wrath all deal with that theme.
His stories were becoming more and more popular, and several adaptations were made. In 1942, a movie version of Tortilla Flat was made. Of Mice and Men was adapted into a movie and into a play that was extremely successful.
Perhaps his most critically acclaimed novel, The Grapes of Wrath, was written in 1939 and was inspired by two newspaper articles that Steinbeck had written. In 1940, Steinbeck was awarded the Pulitzer Prize for this influential novel. The novel examines a family suffering from poverty and their lives as sharecroppers.
Steinbeck continued his extremely prolific career and in 1962, Steinbeck was awarded a Nobel Prize for his literature. He continued writing until his death in 1968. He died before finishing a novel about the legend of King Arthur.