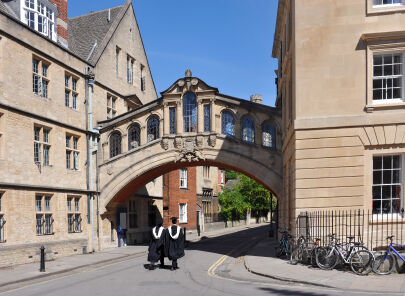 Tony Blair was educated in Durham, Edinburgh, and London. He was the prime minister of Britain from 1997 to 2007.
Tony attended Durham's Chorister School from 1961 to 1966, and then he went on to Fettes College, a private, or independent, school in Edinburgh, Scotland. He received a B.A. degree in jurisprudence from Oxford in 1976, and became a member of Lincoln's Inn, one of the Inns of Court in London. There, he enrolled in the last stage of training to be a barrister. This is like an apprenticeship, where you get practical training, usually for a year.
Anthony Charles Lynton Blair was born in Edinburgh, Scotland, on May 6, 1953. His father, Leo, was a lawyer and had chosen to run for Parliament in 1963. Before the election, he suffered a stroke and couldn't talk for three years.
Tony and his two siblings had to learn to cope with the stress and effects this had on the family. Leo transferred his ambition to his children and Tony felt like he would let his father down if he did not become active in politics.
Blair practiced law until 1983, when he was elected to Parliament. This was where his practical education began.
He was a member of the Labour Party, which had the smallest number of Labour Members of Parliament since 1935. There had been a lot of strikes, and most of the population felt that the Labour Party was being controlled by the unions. The Labour Party was in trouble, and Blair soon became central to its reform.
From 1983 to 1992, Neil Kinnock was the new leader of the Labour Party. In those years, he appointed Blair to opposition spokesperson on treasury and economic affairs, deputy to Bryan Gould, the shadow trade and industry secretary, shadow energy secretary, and shadow employment secretary.
In 1992, John Major, who was a Tory, became Prime Minister, and Kinnock had to resign. John Smith then became leader of the Labour Party, and he appointed Blair shadow home secretary. When Smith died in 1994, Blair was elected leader of the Labour Party.
Blair knew if Labour was going to win the election in 1997, it needed some major reforms. He felt it was the government's job to help create the conditions needed for people to prosper, but both the government and the individuals needed to have accountability.
Blair was also successful in getting the party's charter revised. This reshaped the party's image, and it was no longer a party of the working class. This new Labour Party supported free enterprise, and reducing budget deficits and inflation. The reforms worked and the Labour Party won the election in 1997, with the biggest majority ever.
In 1997, Blair replaced John Major as Prime Minister when Parliament had a Labour majority. He was the youngest prime minister in the 20th century. One of the first things he proposed was welfare reform. He initiated, at a cost of $4.33 billion, a training program for those on welfare to give them necessary skills to get jobs.
He also took a major stand in Britain's relationship with Ireland. The war had been going on for 30 years, and, with many months of hard-fought negotiations, an agreement was reached. This agreement established a Northern Ireland Assembly, and gave the Irish Republic (the Southern portion of the island) a voice in the affairs of the North. Also, the Irish Republic had to stop trying to reclaim the North.
Much of the credit for this went to Blair because of his diplomatic skills. Blair served as Prime Minister longer than any one else in the Labour Party. Gordon Brown replaced him as Leader of the Labour Party and Prime Minister in 2007. In 2008, he created the Tony Blair Faith Foundation, whose goal is to "educate, inform and develop understanding" between various religions and address the issues of global poverty and strife.