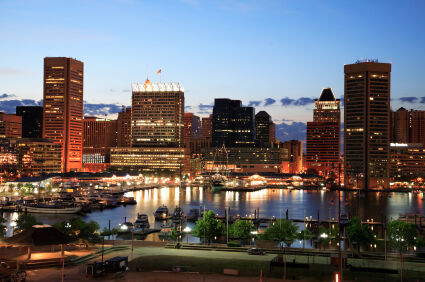 In 2007 Nancy Pelosi was named the Speaker of the House of Representatives in the United States, one of the most esteemed and prestigious political positions in the entire country. Until 2007, she was the House Minority Leader, and she has represented the 8th Congressional District of California since 1987. Her background may have hinted at such a political career. From an early age, Pelosi enjoyed activity in politics. Pelosi's political aspirations can be traced all the way back to the city of her birth, Baltimore, Maryland.
Birth Place of Nancy Pelosi
Nancy Pelosi was born on March 26, 1940 in Baltimore, Maryland. Her activity in politics may be traced back to her father, Thomas D'Alesandro Jr., who was the mayor of Baltimore during her early and teen years, from 1947 to 1959. Her early life in Little Italy formed the basis for her future ambitions.
Pelosi began to love politics and the Democratic Party, and her political aspirations grew along with those of her family. Her brother, Thomas D'Alesandro III, was the mayor of Baltimore from 1967 to 1971, but Pelosi set her dreams beyond the city in which she grew up.
Her parents would only let her move as far away as Washington, D.C., which is exactly what she decided to do. While attending Trinity College in Washington D.C., Pelosi met her future husband, Frank Pelosi. After they married, they spent some time living in New York. In 1969, her husband's brother urged him to move to San Francisco, where he enjoyed a position on the city's Board of Supervisors. Although she had spent her entire life on the East Coast, Pelosi and her husband decided to make the move.
While her father and brother had left their mark on the city of Baltimore, Pelosi was destined for something different. San Francisco would become the city where she would work her way up the political chain.
Unlike many women, who were becoming increasingly career-minded, Nancy Pelosi put her career on the back burner for a time, opting instead to raise a family and volunteer for the Democratic Party at every possible opportunity.
When Jerry Brown, Governor of California, ran for President in 1976, Pelosi joined the campaign, helping him to win a primary victory in Maryland, the state of her birth. Pelosi became the chairwoman for the northern section of the Democratic Party of California in 1977 due to her efforts in the campaign, and in 1981, became the chairwoman for the entire state.
She remained largely behind the scenes until late 1986, when her close friend and California Representative Sala Burton became extremely ill. She had cancer, and urged Pelosi to succeed her. Pelosi won the primary by a narrow margin and the actual election handily, and was sworn in as the new Representative in June of 1987.
By now, Nancy Pelosi had become a political icon, a hardworking but family-oriented woman who forged her own path in American politics. She impressed many individuals in the United States House of Representatives, gaining recognition and esteem as she served.
She was the first woman ever chosen to be the House Minority Whip, second to the House Minority Leader (at the time, Dick Gephardt). When, in 2002, Gephardt resigned from his post, it was assumed by Pelosi, also becoming the first woman in American history to hold that post.
In 2007, Pelosi became the Speaker of the House, again the first woman in history to be chosen for the position. When the Republicans became the majority in the House, Pelosi regained her title of House Minority Leater.
Her fellow Democrats praise her as a tenacious, well-spoken, and extremely driven member of the House of Representatives, while Republicans decry her as a far-left liberal. Either way, she remains a Baltimore-born threat to political foes, and a staunch advocate for the Democratic Party.