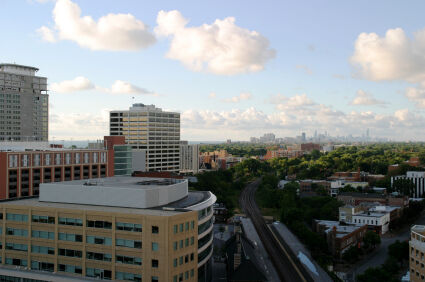 Charlton Heston was an American actor and political figure. He is famous for his portrayal of heroic figures and has won an Academy Award for his performance in Ben-Hur.
Birth Place of Charlton Heston
Charlton Heston was born on October 4th, 1923 in Evanston, Illinois and was of English and Scottish descent. He passed away from prostrate cancer while also suffering from Alzheimer's disease on April 5th, 2008. His birth name was John Charles Carter, and was an only child to Lilla and Russell Whitford Carter.
Heston came from a modest, working class background as his father was a mill operator. Heston was somewhat isolated after the family moved to St. Helen, Michigan, for economic reasons and he was known to spend much time fishing and hunting in this rural area.
His last name changed after his mother's marriage to Chester Heston after divorcing his father. His stage name derives from this last name and his mother's maiden name, Charlton.
Heston's first film was Peer Gynt, based on a play by Henrik Ibsen. Immensely popular upon its original publishing, Heston's interpretation was captured on 16 mm film with New Trier's drama program.
He also became active in the Winnetka Dramatist's Guild and his talent earned him a scholarship to Northwestern University in Illinois. Another notable accomplishment at this early stage in his career was participating in the first sound version of Shakespeare's "Julius Caeser" playing the role of Mark Anthony.
After serving for the U.S. Army Air Forces in World War II, Charlton Heston moved to New York City and lived working as a model for artists along with his wife, Lydia Marie Clarke. However, they found opportunity in Asheville, North Carolina, and moved there to manage a small theater.
He continued to work in theater, and got some roles in television, most notably so with CBS's Studio One. In the 1950s, he was noticed by an important film executive in a television version of Wuthering Heights and was offered a Hollywood contract.
His first big movie was Dark City, but gained national attention with his portrayal of a circus manager in The Greatest Show on Earth, a film that won the Academy Award for Best Picture that year.
However, it was The Ten Commandments and Heston's role as Moses that secured his place as an American acting legend. He was chosen primarily due to the fact that he resembles Michaelangelo's statue of Moses, and because the film was a huge hit and his acting in it was so praised, he became known as one of the great Hollywood talents.
It was his next movie, Ben-Hur, that made Heston Oscar-worthy. It won eleven Academy Awards overall, and only two other movies have ever won that many awards (those movies being Titanic and Lord of the Rings: The Return of the King).
It depicts the story of Jesus Christ, and due to Ben-Hur and The Ten Commandments, Heston came to be associated with epic biblical stories. Many of his following roles were historical, although he branched out to the western genre.
He was the President of the Screen Actors Guild starting in 1965; and still acted in movies, and worked on the notable Planet of the Apes, another classic movie. He also reprised his role as Mark Anthony in Julius Caesar.
Charlton Heston and the NRA
Also known for his political activism, he was a moderate Democrat early in life and fought for civil rights alongside Martin Luther King Jr. However, he later opposed affirmative action and found a place in the Republican party, also supporting gun ownership rights. He eventually became the President of the National Rifle Assocation for five years.