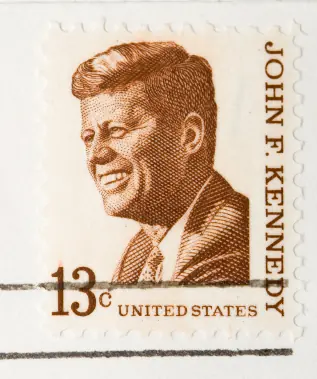 Most people know that President John F. Kennedy was assassinated in Dallas, Texas on November 22, 1963, but not so many people know when he was born.
John Fitzgerald Kennedy, affectionately known by those close to him as Jack, was born in Brookline, Massachusetts on May 29, 1917.
The second of nine children, Kennedy was born into a staunchly Catholic family. The Kennedy family was also one of the most prominent political clans in Boston and Jack later entered politics with the help and encouragement of his father Joseph P. Kennedy and mother Rose Kennedy.
The Kennedy family was to become a near dynasty in American politics, shaping the era as a time of renewed hope and prosperity. Kennedy's life was tragically cut short at the age of 46 with his assassination by Lee Harvey Oswald, but his influence lived on.
Kennedy graduated from Harvard University with a degree in international affairs in 1940, and tried to join the U.S. Army. He was refused because of his bad back but was accepted into the Navy in 1941.
Kennedy's PT boat, PT-109, was sunk in 1943 and his back was further injured in the process, but the young hero acted to save his surviving crewmen, and was recognized with a Navy and Marine Corps Medal and the prestigious Purple Heart.
Kennedy was honorably discharged from the military in 1945 and began his political career almost immediately, running for a spot as a representative in Boston. He was elected in 1946, and again in 1948 and 1950.
Kennedy ran for Senator of Massachusetts in 1952. He was reelected to the post in 1958 after a failed bid for Vice President in 1956.
Kennedy ran for president against Richard Nixon in 1960, just narrowly winning. At 43, John F. Kennedy was the youngest U.S. President ever elected.
John F. Kennedy was assassinated in Dallas, Texas by Lee Harvey Oswald on November 22, 1963.