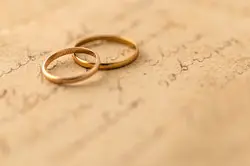 Many of us recognize him as the creator of early cars, but what do we know about his personal life? Henry Ford was married on April 11, 1888.
Ford's Courtship and Marriage
Henry Ford married Clara Bryant, a woman who grew up less than 10 miles away from him. They did not meet until 1885, when Ford was 21 and Bryant was 19. They met at a New Year's Ball at the Martindale House that year, when it was 1884 going into 1885. They talked for awhile, but that was really the end of their communication for that time. Ford left with a strong desire to see her again.
He went to a number of dances in hopes of running into his love interest; however, he did not succeed until almost a year later. When they did meet again, they quickly became companions.
By April of 1886, they were engaged to be married. Engagements were not necessarily that long back then. In fact, the average length of an engagement is shorter now. However, Clara's mother felt that her 20 year old was too young to get married. Therefore, they waited until April 11, 1888 to be married.
Clara Bryant was born exactly 22 years before she married Ford. She had nine siblings and she was the oldest girl in the family. There were two brothers who were older than she was.
They were a family of farmers who were doing very well in their business. Both of her parents, Melvin and Martha, were active in their church. Her mother taught Sunday school.
Family of Henry Ford and Clara Bryant
In November of 1893, Clara gave birth to a son, Edsel Ford. This child would be the only one of Ford and Bryant.
When he was 23 years old, Edsel married a woman by the name of Eleanor Clay. They lived in Detroit, approximately 12 miles away from the Ford estate. Soon afterwards, Ford and Bryant would be blessed with grandchildren, as Edsel and Eleanor had four children together. They were:
Henry II born in 1917
Benson born in 1919
Josephine born in 1923
William Clay born in 1925
The grandparents really adored these youngsters. The Ford's home had such features as an indoor pool, a bowling alley, and a miniature farm.
Edsel Ford passed away at the age of 50, before either of his parents died.
Death of Henry and Clara Ford
In 1947, Henry Ford passed away when he was 83 years old due to a cerebral hemorrhage. He died in his bedroom.
His wife, who had always been loyal and supportive to him, lived for three more years, which would put her at the age of 84 when she passed away on September 29, 1950. She died at the Henry Ford Hospital. There is not a great deal of information available on the exact cause of her passing.
From 1888 when Henry Ford decided to marry Clara and throughout their marriage, they were partners, and Ford had once said, "The greatest day of my life, was the day I married Mrs. Ford."