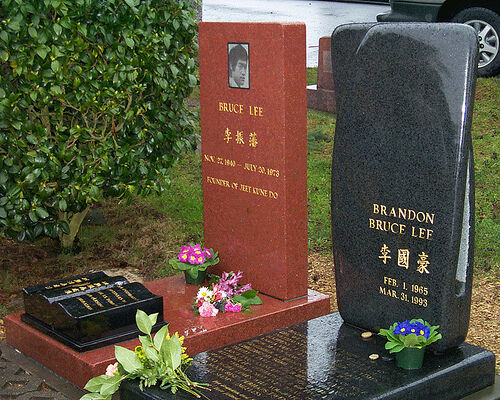 Bruce Lee died on July 20, 1973 at the age of 32 and his son, Brandon Lee, died on March 31, 1993 at the age of 28.
Deaths of Bruce and Brandon Lee
Bruce Lee starred in Enter the Dragon, made by Warner Brothers, which was the most successful martial arts movie of all time. In fact, his hand strikes were so fast, the camera speed had to be adjusted. Shortly before its release, Bruce died of a brain aneurysm on Friday 20th July 1973, at the age of 32.
Brandon Lee landed the part of Eric Draven in The Crow. His character was a rock musician who was murdered and came back from the dead to take revenge on those who killed him. When filming was almost finished, he was performing his death scene when he was fatally and accidentally shot. A bullet was lodged in the prop gun, but it was supposed to be a blank. He was rushed to the hospital, but it was too late. He died on March 31, 1993 at the age of 28. He was interred next to his father in Seattle.
Lee Jun Fan was born in San Francisco on November 27th 1940. His parents returned to Hong Kong when he was a year old. In 1946, he began to act in movies, and made over 20 of them before going to La Salle College in 1952.
The next year he lost a street fight with a gang and began studying Wing Chun under Sifu Yip Man. His skills grew so rapidly, that he never lost another fight. Because of all the violence in Hong Kong, his parents decided he needed to finish his education in San Francisco.
After moving to Seattle, he enrolled in the Edison Technical School while waiting tables at Ruby Chow's, a Chinatown restaurant, and teaching martial arts. In 1963, Lee opened two Jun Fan Gung-Fu institutes and in 1964, showed his martial arts skills at the International Karate championships in Long Beach, California.
He demonstrated his "One Inch Punch," a technique he developed, which is a double punch to the torso, with the first punch ending an inch away. This can propel an opponent backward several feet into the air. Jay Sebring, hair-stylist for the Batman TV series was so impressed, that he put him in touch with "Batman" producer William Dozier.
Dozier invited Bruce to take a screen test in Los Angeles. At 24, Bruce landed a job as Kato in the Green Hornet TV series. During this time, he opened a third martial arts institute, where he finished the development of his own martial arts style, "Jeet Kune Do." It is also known as the "The Way of the Intercepting Fist."
In 1970, Bruce visited Hong Kong with his son and was offered a chance to star in the movie, The Big Boss. It was a phenomenal success and made Bruce a star overnight. His next two movies were Fist of Fury and Way of the Dragon, the latter he directed. In Way of the Dragon he showed his nunchaku skill, which is his trademark weapon, by using two sets at the same time.
Brandon was born on February 1, 1965, in Oakland, California. He was the son of Bruce Lee and Linda Lee. Some of his early years were spent in Hong Kong, and he lost his father when he was eight years old.
After his father's death, he moved to Seattle with his mother and sister, Shannon. He studied drama in college, and even though he didn't stay in college, he had the desire to act. His first film was Legacy of Rage made in Hong Kong in 1986. He appeared with David Carradine in Kung Fu: The Movie and made three action films: Laser Mission, Showdown in Little Toyko, and Rapid Fire.