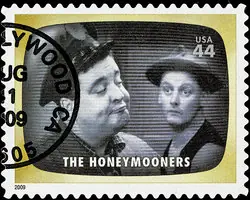 Art Carney died, peacefully and at home, in November of 2003. But there's a lot more to the life and career of Art Carney than just his date of death.
Art Carney was born in 1918 and was best known as an actor in movies, television shows, and on the radio. His career started in the days of radio, and went from there.
Like many actors of the time who later translated to television, Carney was skilled at making people laugh with his words alone, and did voice-over work for commercials and radio shows of the time.
He played the part of multiple characters on childrens' radio programs in the 1940s, perhaps best known as the voice of Red Lantern on a program called "The Land of the Lost."
A few decades later, during the 1960s and the boom of television, Carney appeared in a television puppet special, also geared towards kids.
He is probably best known for his role as Ed Norton on the famous television sitcom "The Honeymooners" along with Jackie Gleason. Gleason later credited Carney almost entirely with the amazing success of the sitcom.
Art Carney's Generational Appeal
If you ask anyone what Art Carney did and what his famous roles may have been, the answer you'll get will vary entirely depending on the respondent's age, which is a testament to Carney's multi-generational appeal as well as his decades of success.
Throughout the 1940s through the 1990s, Carney played multiple roles in the world of entertainment, endearing himself to audiences for generations, without losing his relevancy or his dry comic touch.
Tough Times for Art Carney
Like most actors who spend decades of their life in the limelight, Art Carney suffered an interesting list of both highs and lows. His life included many more successes than it did anything else, but he also had his years of struggle.
He was not afraid to document the lows and offer up as advice to those younger and less experienced than he was. Carney spoke openly and candidly about his own mistakes as well as his successes, and remained throughout his life a gentleman, known for telling the truth and doing his best for those he cared about.
The roughest years of his life, which took place during a period of drug addiction, didn't kill him, but simply caused him to refocus his energies and heal himself. He emerged triumphant, putting his marriage back together (after losing it during his battle with addiction), and winning an Oscar for Best Actor in 1974 at the amazing age of 72 for his role in Harry and Tonto.
Professionalism of Art Carney
Other actors and artists who worked with Carney, whether in television, films, or on the radio or stage, talk about him with fondness, stating that he was a professional actor, a warm and friendly person, and a genuinely funny individual who put his personal stamp on every role he took on, whether it was a bit part voiceover or a starring turn.
For such a deprecating, humorous person, it's perhaps appropriate that the last words Art Carney ever spoke on screen, in a brief film appearance in 1993, were "I'm outta here." He may have been, but he'd be glad to know how many people remember him and his extraordinary comic talent.