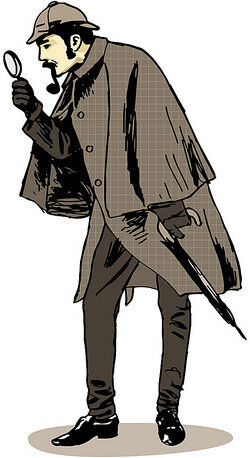 Sir Arthur Ignatius Conan Doyle, generally known more simply as Arthur Conan Doyle, was the author of the popular Sherlock Holmes series of mysteries published in the late 1800s and into the early 1900s. Sir Arthur Conan Doyle originally worked in the medical profession before he decided to concentrate on pursuing a career as a writer.
Even though the character of Sherlock Holmes plays the starring role in Doyle's books, the tales are actually relayed from the perspective of Doctor John Watson. Indeed, Dr. Watson provides the first-person narration for nearly all of the Sherlock Holmes stories. This makes sense, given Doyle's background in medicine.
At the University of Edinburgh Medical School, Sir Arthur Conan Doyle studied medicine between 1876 and 1881. He graduated with a Bachelor of Medicine, Bachelor of Surgery degree.
He completed a Doctor of Medicine degree in 1885, with a focus on syphilitic myelopathy (tabes dorsalis).
In addition to learning about the field of medicine, Doyle also studied practical botany at Edinburgh's Royal Botanic Garden.
Even before finishing at university, in 1880, Doyle started practicing as a doctor, aboard a Greenland whaling ship called the Hope of Peterhead. He also served as the surgeon aboard the SS Mayumba during its sailing to the coast of West Africa after graduating in 1881.
Upon returning to Great Britain in 1882, he partnered with former classmate George Turnavine Budd at a medical practice in Plymouth, a port city in the south of England but the partnership didn't last long.
He went on to set up his own practice in Portsmouth, Hampshire. He publicly denounced anti-vaccination messaging. He also learned how to perform eye exams and prescribe glasses at the Portsmouth Eye Hospital.
A few years later, in 1891, Sir Arthur Conan Doyle traveled to Vienna to study ophthalmology, but he struggled to understand the medical terms in German.
He eventually returned to England, after visiting Italy and France, to set up an office in London. His autobiography states he had no patients.
Doyle began writing short stories at university. His first piece was published was in 1879, "The Mystery of Sasassa Valley." While working in private practice, Doyle had few patients, so he returned to writing and created the Sherlock Holmes character for which he has become so famous. Holmes was inspired by Doyle's mentor at university, Dr. Joseph Bell. The first story involving the title character and Dr. Watson, titled A Study in Scarlet, was published in 1886. He wrote it in just three weeks.
Doyle attended boarding school in England until the age of 17, and it was there that his love for the written word first developed. He wrote letters to his mother every day. While he was in medical school, Arthur Conan Doyle met a number of authors who were also attending, including James Barrie (author of Peter Pan) and Robert Louis Stevenson (author of Treasure Island). This helped to inspire him and to develop his love of the written word even further.
Elementary, My Dear Watson
These early experiences, as well as Arthur Conan Doyle's continued passion for writing over the course of his life, would later lead to his own writing career taking off and eclipsing his previous medical career. Today, he is best known as the creator of Sherlock Holmes.