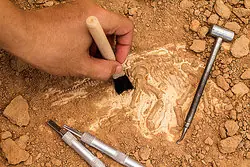 Mary Leakey did not receive any prestigious awards throughout her lifetime. She did, however, receive recognition in her field of work. Mary Leakey was a British archaeologist and anthropologist who accomplished much throughout her life, including marriage and children and a fulfilling career.
Although she received a great deal of recognition for her accomplishments in the archaeological and anthropology fields, she is known only for her contributions and illustrations relating to these fields, not for any awards she has won.
Mary Leakey's career began before 1932 and evolved in an interesting manner:
Mary had no formal training in drawing or archaeology because she had been kicked out of two convent schools for not reciting poetry and for causing an explosion in the chemistry lab.
Although her mother tried to hire tutors to continue her schooling after the age of 13, Mary was no more receptive of the tutors than she was the nuns.
Her mother decided to take her on a trip to Stonehenge where Mary discovered her desire for archaeology and drawing. At that point in her life she decided to attend teaching seminars at University College London and the London Museum. At both institutions she studied under a man by the name of Mortimer Wheeler.
Mary began applying to go on excavations with various known archaeologists in the field. Mortimer was the first to accept one of her applications and she illustrated pictures for him of the finds he made at St. Albans and Verulamium in Rome.
She then became the illustrator of the archaeological finds at the Hembury site under the direction of Dorothy Liddell, who she remained with for four years.
Leakey's illustrations from this site caught the attention of Gertrude Caton-Thompson and in 1932 she became a household name in the field of archaeology as a profound illustrator of archaeological finds.
Marriage and Personal Life
While working for Gertrude, Mary met her husband Louis Leakey who happened to be in need of an illustrator for a book that he was working on.
While she worked on the illustrations for his book, Adam's Ancestors, the two became romantically involved and were married after Louis divorced his first wife Frida.
The two went on to have three sons. Although Louis was not always faithful to Mary, they remained married up until the time that he passed away.
Famous Contributions to the Field
Throughout the duration of their marriage, Louis and Mary went on many archaeological digs together, often as a family bringing their sons along with them. During this time, Leakey accomplished some of the things for which she is best known:
She and her husband are most famous for the excavation that took place in Olduvai and Laetoli in Africa where they discovered not only ancient tools, but also discovered Homo fossils that dated back to 3.75 million years ago.
While on these digs, Mary also discovered fifteen new species and one new genus.
She continued to be in control of these digs and illustrate her findings even after her husband Louis had passed on.
She has illustrated many books throughout her career including:
Excavations at Njoro River Cave
Olduvai Gorge: Excavations in Beds I and II
Olduvai Gorge: My Search for Early Man
Africa's Vanishing Art: The Rock Paintings of Tanzania
Mary died on December 9, 1996 at the age of 83. By this point in time, she was a known paleoanthropologist and was also known for helping to advance the careers of not only her husband Louis, but her son Richard through her beautifully detailed illustrations. Thus, while she was not an award winner, she led an amazing life.