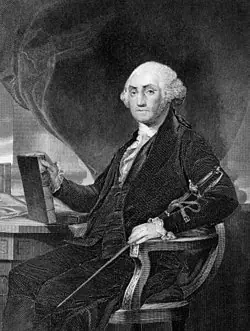 George Washington (February 22, 1732 - December 14, 1799) was a great general, the first President of the United States, and one of the Founding Fathers of the country. He died of a throat infection after three years of retirement at Mount Vernon.
George Washington's Early Years
The exact date of George Washington's birthday depends upon which calendar we are using.
According to the Julian calendar, Washington was born on February 11, 1731. This calendar was the one that was in effect at the time, so that was regarded as his birthday.
According to the Gregorian calendar, he was born February 22, 1732. This calendar did not come into usage in the colonies until 1752, 20 or 21 years later depending upon how you look at it.
The Gregorian calendar came into usage in the colonies in 1752, so the commonly used birth date is February 22, 1732.
George Washington was born at his father's plantation - Pope's Creek Plantation in Westmoreland County, Virginia (the current day Colonia Beach), to his father Augustine Washington and his father's second wife Mary Ball Washington.
His father was a tobacco planter who owned slaves. He was also a justice on the county court. He later became an iron miner.
Washington's family was considered middle class. They had some riches in their lives, but they were not wealthy. The family had lived in the colonies for a number of generations, distancing themselves from their British past.
Augustine's first wife, Janet Butler, died in 1729 after having three children with Augustine - two sons, Augustine, Jr. and Lawrence, and a daughter, Jane.
Augustine married Mary Ball in 1731 and George was Mary Ball's first child. She went on to have five other children in addition to the three children who Augustine had with his first wife.
Six of Washington's siblings lived until adulthood; however, three of them died when they were children.
Mildred died at the age of one
Butler and Jane died when they were teenagers
His siblings who survived were named Lawrence, Augustine, Samuel, Elizabeth, John Augustine, and Betty
In 1735, George Washington's family moved from his birthplace to a plantation - named the Little Hunting Creek Plantation, which was later called Mount Vernon - where he would spend the rest of his childhood.
Their father passed away when Washington was only 11 and many of the children were still young. Washington's half brother Lawrence became George's caretaker. He was a great influence for Washington and helped him develop the values for which he was well known.
Washington knew that his older brother would eventually inherit the Virginia plantation; so, Washington had to find a way to support himself and build a life.
Lawrence built a house on 2,500 acres on the family plantation and named it Mount Vernon after an admiral he served under during the siege of Cartagena. In 1751, Lawrence contracted tuberculosis and took a trip to Barbados to see if his health would improve there in the warmer weather. He took George with him and George got smallpox, which caused his face to be scarred.
Lawrence's health did not improve and they returned to Mount Vernon. Lawrence died in 1752, leaving the estate to George in the event of his sister's death. She died a few months later, and George inherited Mount Vernon, one of the nicest estates in Virginia.
A famous story surrounding the childhood of George Washington is that he chopped down a cherry tree when he was not supposed to. When his father asked, he told his father that he could not tell a lie. Therefore, he was known as being honest. At this point, historians have pretty much figured out that this tale is a complete fabrication.
His older brothers attended the England's Appleby School, which of course, was located in England. Since their father had passed away, Washington was prevented from going across the seas to school. Money became an issue after his father died, and there had to be more help in the family to help take care of the other members.
Washington had several tutors and went to a school run by an Anglican clergyman in Fredericksburg until he was 15 years old. He excelled at mathematics and surveying.
Initially, he was to join the Royal Navy; however, his mother objected and the appointment was never pursued.
He also did not attend college. The fact that Washington did not receive the same formal education that his brothers had received from England did not necessarily bother him. However, it is reported that it later bothered him that he did not have the same education as some of his other contemporaries and acquaintances.
Washington taught himself many things through reading books and newspapers. He became a skilled writer and, believing as he did about education, he left money in his will to establish a school and a university.
He eventually received a surveyor's license from the College of William and Mary. The exact details of how long Washington attended the school or what the requirements were for the license are unclear.
His brother Lawrence was able to help him establish himself. He had connections with the William Fairfax family, a powerful local family; therefore, George was able to get an appointment as surveyor of Culpeper County in 1749 when George was only 17 years old. He became a member of a surveying expedition in West Virginia and the next year he was appointed as county surveyor.
In 1752 he used his surveyor experience to gain an appointment as a major in the Virginia militia. He was entrusted with the responsibility to carry a British ultimatum to the French Canadians - that the French Canadians cease their expansion into the area that is present day Ohio.
He continued his military career fighting the French and serving as aide-de-camp to General Braddock in 1755 during the early battles of the French and Indian War. After Braddock's death, Washington became commander of all Virginia troops. and continued to serve and gain valuable military experience. Under his leadership the French abandoned their outposts, removing the threat of frontier violence.
In 1757 he resigned his commission and moved to Mount Vernon which had inherited from his older step brother after his death. Washington served in the Virginia House of Burgess and managed his lands around Mount Vernon.
In May of 1775, the Second Continental Congress convened in Philadelphia, Pennsylvania. Washington volunteer for military service and was selected to be the commander-in-chief of the Continental Army in the American Revolution. In 1776, he was successful in forcing the British out of Boston; but, he later lost New York City to the British. He crossed the Delaware River and defeated the British and retook New Jersey.
In 1781, with aid from the French, Cornwallis surrendered at Yorktown.
He resigned his position as Commander-in-chief in 1783 after the victory in Yorktown rather than to try to seize power over the defeated.
Washington went on to accomplish political greatness in his adult years.
After the surrender at Yorktown, the new country had various factions of belief. Washington promoted the formation of the Constitutional Convention in Philadelphia in 1787 as a forum to create a unifying document for the nation to replace the Articles of Confederation. Washington was chosen to preside over the convention. He worked to gain support of the new government and constitution.
President of the United States
After the Constitution was ratified, Washington was unanimously elected the country's first president. He took the oath of office in New York on April 30, 1789, on the balcony of Federal Hall on Wall Street. He served two terms and retired to Mount Vernon.
In his farewell address on March 4, 1797, he warned the American people against long-term foreign alliances and said that citizens should not allow political parties or geography to divide the country.
In 1759, Washington married 28-year old Martha Dandridge Custis, a wealthy widow with two children - John Parke Custis and Martha Parke Custis. His marriage to Martha greatly increased his property assets and he became one of Virginia's wealthiest men.
George and Martha raised Martha's children and later, her grandchildren.
Political Accomplishments
Received 100% of the electoral votes during the election for the presidency, remaining the only president to have this percentage.
Supported Alexander Hamilton's programs to pay off debt, to start a tax system and to create a national bank.
Proclaimed that the U.S. was neutral in the ongoing European wars, avoiding war with Great Britain.
Signed the Residence Act of 1790 authorizing the President to select the permanent location of the government. He selected an area on the Potomac River which, in 1800 was named the District of Columbia.
Washington was a tall man for the time, standing 6'2".
Washington enjoyed fox hunting, dancing, parties, the theater and playing cards.
Washington used his will to give direction to free all the slaves he owned after his wife's death. Martha decided to free them about a year after her husband's death.
Washington's Farewell Address was a written lesson in the form of a letter on the importance of religion and morality in politics and how to avoid some of the trials and tribulations that the United States had already experienced such as foreign wars, partisanship and the downsides of not acting as a unified country.
The letter is considered one of the more important historical documents. It is read annually on Washington's Birthday on the floor of the U.S. Senate.
Other George Washington Quotes
Associate with men of good quality if you esteem your own reputation; for it is better to be alone than in bad company.
Happiness and moral duty are inseparably connected.
It is better to offer no excuse than a bad one.
To be prepared for war is one of the most effective means of preserving peace.
It is impossible to rightly govern a nation without God and the Bible.
Two years after leaving the presidency, Washington died from a throat infection on December 14, 1799. There are some who say he died from pneumonia or that the doctor bled him, which was a common practice at that time, and he bled him too much and that caused his death. Most believe it was a throat infection, like tonsillitis or laryngitis.
He died with courage and grace. On his deathbed, he said,
I die hard but I am not afraid to go.
To protect their privacy, Martha Washington burned all of the correspondence between George and Martha, leaving only five letters.
Congress had passed a resolution in 1800 to construct a mausoleum in D.C. for his remains; however, southern opposition was so great it was decided that, instead, Washington's remains would be kept at Mount Vernon. In 1837, the remains were moved to a tomb constructed at Mount Vernon. The vault was locked and the key was thrown into the Potomac River.
At his funeral, Henry "Light Horse Harry" Lee claimed Washington to be "First in war, first in peace, and first in the hearts of his countrymen."
When Napolean heard of Washington's death, he ordered ten days of mourning in France.
In the United States, many people mourned his death for months afterwards.
Washington's image has adorned stamps and is on the one dollar bill and the quarter.
His likeness is sculpted on Mount Rushmore.
The state of Washington is name after him.
He has had hundreds of things named after him, like schools, towns, and streets.
The most impressive memorial for Washington is the Washington Monument which was completed in 1884. It is located in the National Mall in Washington, DC. It it an obelisk which stands at 555 feet, 5 1/8 inches and is made of white marble. It is the tallest free-standing stone structure in the world and was patterned after the ancient Egyptian obelisks.
George Washington Birthplace National Monument
The George Washington Birthplace National Monument is located where he was born. A house and kitchen were built in 1931 to resemble the typical house of a fairly wealthy planter on the 1730s. It is not an exact replica of the actual birthplace of George Washington, but is typical of the type of house where he was born.
When George Washington was President of the United States, much of the country celebrated his birthday.
Congress declared a federal holiday in the District of Columbia in 1880 and it was changed in 1885 to include all federal offices.
Starting in 1885 George Washington's birthday, February 22, 1732, began to be celebrated by the whole country.
Many years later, in 1968, the Uniform Holidays Bill changed the day his birthday is celebrated to the third Monday in February. So beginning in 1971, that day was officially the day to celebrate Washington's Birthday.
Not all states celebrate the third Monday in February in the same way. Some states also celebrate Abraham Lincoln's birthday on that day and some have a separate day for Lincoln. Some states include any president from that state with Lincoln's and Washington's day, but every state observes Washington's Birthday on that day.
For a time perspective of the details of George Washington's life, check out the George Washington Timeline on YourDictionary.