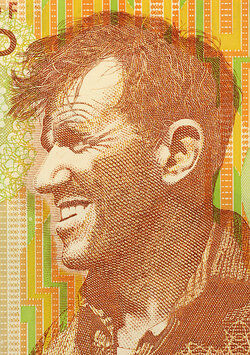 Edmund Hillary (July 20, 1919 - January 11, 2008) was a mountaineer, explorer and worked as a humanitarian and philanthropist, devoting many years of his life to assisting the Sherpa people of Nepal. He is most recognized, however, as one of the first climbers to scale Mount Everest.
Edmund Hillary's Childhood and Adolescence
Edmund Percival Hillary was born on July 20, 1919 in Auckland, New Zealand. He became famous less than three decades after his birth.
His parents were Percival Augustus Hillary and Gertrude Hillary.
Although he was born in Auckland, his family moved to Tuakau in 1920 when his father acquired land.
As a young boy, Hillary was smaller than the majority of other children. Since he was smaller, he avoided sports, and loved to read instead. He would read a number of adventure stories, and dream about going on adventures. This background of adventure stories helped inspire him to climb mountains later in life.
Education
As a child, Hillary attended the Tuakau Primary School, and then Auckland Grammar School. He was advanced for his age, and he finished primary school two years earlier than he was supposed to. However, he had difficulty in high school, and only received average grades.
Hillary's Beginning Interest in Climbing
Hillary eventually grew taller, and he became interested in sports. He started to box, and this further increased his confidence.
When he was sixteen, he went on a school trip to Mount Ruapehu. On this school trip, he was exposed to climbing and he realized that he had strength and endurance that many of his other school mates did not have.
In 1939, Hillary completed his first major climb while studying mathematics and science at the University of Auckland. He reached the peak of Mount Ollivier with his friend Tenzing Norgay, and this convinced Hillary further to continue to pursue climbing.
He became a beekeeper with his brother because this allowed Hillary to climb during the summer.
In 1948, Hillary climbed up to the south ridge of Aoraki to Mount Cook. Mount Cook is New Zealand's highest peak. Thus, this was a huge accomplishment for Hillary.
In 1949, he traveled to Switzerland to climb in the Alps.
In 1951, Hillary participated in a reconnaissance expedition to Everest.
In 1952, Hillary was part of an expedition that attempted to climb the Cho Oyu. This expedition also failed due to the fact that there wasn't a route on the Nepal side.
Before 1953, Hillary had become an experienced climber, scaling 11 of the Himalayan peaks that were over 20,000 feet high. He also had many other accomplishments as an explorer including crossing Antarctica, the Alps and the Himalayan peaks.
Hillary joined an 11-man team to climb Mount Everest led by Colonel John Hunt and sponsored by the Alpine Club of Great Britain and the Royal Geographic Society. The team consisted of Tom Bourdillon, Charles Evans, Hillary and Tenzing Norgay.
In the fifties, the road to Everest was controlled by Tibet. Only one expedition to climb Mount Everest was allowed each year.
In 1953, Hillary's expedition was given the go ahead to climb the mountain.
Setting Off
When the expedition set out, it included approximately four hundred people. There were over three hundred porters, twenty Sherpa guides, and about ten thousand pounds of baggage. The Sherpa guides were intended to lead the expedition partially up the mountain. In March of 1953, the expedition set off.
During the expedition, the crew often experienced snow and wind which would delay their travel. The four climbers were broken up into teams, and Hillary and Tenzing were in one team.
The trip up the mountain was extremely difficult and when they neared the summit, only four men were able to continue. Bourdillion and Evans got within 300 feet and had to turn back in May because Evans' oxygen system didn't work. Hillary was paired with Tenzing Norgay and they made the final attempt to make it to the summit.
At the Summit
On May 29, 1953 at about 11:30 a.m. Hillary and Norgay reached the summit of Mount Everest at eleven thirty in the morning on May 29 in 1953. At the age of 33, Hillary had conquered Mount Everest, the highest peak on Earth.
They stayed at the summit for 15 minutes. Hillary took a photograph of Tenzing to commemorate the moment. There is no picture of Hillary atop Mount Everest because his friend Tenzing did not know how to use a camera.
Hillary left a cross on top and Norgay left an offering of chocolates.
For those 15 minutes, Hillary and Norgay were at 29,028 feet above sea level, higher than anywhere else on Earth. They had to descend because of their low oxygen supply.
A lifelong friend of Hillary's, George Lowe, met them with hot soup as they were coming down and Hillary told him,
"Well, George, we knocked the bastard off."
Because of their efforts, Hillary and John Hunt, the leader of the expedition, were knighted by Queen Elizabeth II who had just recently been crowned queen. Norgay received a medal for his efforts because the Indian Prime Minister refused to allow him to be knighted.
Other Accomplishments of Sir Edmund Hillary
After tackling Mount Everest, Hillary continued to climb mountains and explore new adventures, including mountains in Australia, Switzerland, and ten other peaks in the Himalayas that were more than 20,000 feet high.
In 1955 Hillary joined the Commonwealth Trans-Antarctic Expedition that crossed Antarctic over land, via the South Pole from 1955 to 1958. They were the first group to be successful in that venture. Hillary was the first man to reach both of the poles of the Earth.
In 1977, Hillary led a team that traced the route of the Ganges River from its mouth all the way to its source in the Himalayas. He was concerned with the plight of the people of Nepal and helped build schools and hospitals there. He founded the Himalayan Trust to continue humanitarian efforts for the Sherpa people and to help conservation efforts.
He asked the government to protect the area around Mount Everest and make it a national park. Since they didn't have the money for that, he convinced the government of New Zealand to help.
One of the most famous explorers of all time, Sir Edmund Hillary lived most of his life in New Zealand. He was born there, died there, and lived there between his trips all over the world to climb mountains, trek across Antarctica, and help out the Nepalese people.
Hillary was a beekeeper with his brother Rex. Since this was mainly a summer occupation, he had the time to climb mountains in the winter months.
He married Louise Mary Rose in 1953, and had three children – Sarah, Belinda and Peter.
In 1975, after only 22 years of marriage, Louise was killed in an airplane crash along with their 16 year old daughter Belinda.
In 1989, 14 years after Louise had died, he married June Mulgrew, a lifetime friend.
His son, Peter Hillary, climbed to the top of Mount Everest in 1990.
Sarah and Peter, his children, are still living today. As of 2013 they are in their mid 50s.
Hillary had six grandchildren.
Tributes to Sir Edmund Hillary
He received an award from the government of India called the Padma Vibhushan, which is its second highest award for civilians.
For his work with the Antarctica expedition, he was given the Polar Medal.
On the fiftieth anniversary of his climb to the top of Mount Everest, he was made an honorary citizen of Nepal.
Two geographical features are named after him: the Hillary Coast in Antarctica and the Hillary Canyon, which is under water in the Ross Sea.
In 1985, he was appointed the New Zealand High Commissioner to India.
Hillary's picture appeared on the New Zealand five dollar note. He appeared on it in 1992, which made him the first New Zealander to appear on money during his own lifetime.
Time magazine named him as one of the 100 most influential people of the 20th century.
On January 11, 2010, the Hillary Trail was opened in the Waitakere Ranges.
On January 11, 2008, at the age of 88, Hillary died of heart failure at the Auckland City Hospital at about 9 a.m.
A large state funeral was held in his honor at Holy Trinity Cathedral, and the country of New Zealand mourned their deceased adventurer climber.
These two quotes by Hillary sum up his life's philosophy:
It is not the mountain we conquer but ourselves.
People do not decide to become extraordinary. They decide to accomplish extraordinary things.
For a time perspective of the details of Edmund Hillary's life, check out the Edmund Hillary Timeline on YourDictionary.