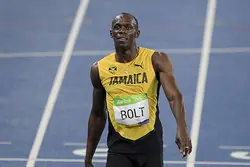 Sprinter Usain Bolt, the world's fastest man, holds the world record for both the 100 and 200-meter sprints since fully automatic time became mandatory. He also holds the world record as part of the 4 x 100 relay. This Jamaican-born sprinter is now retired but definitely has not been forgotten.
Usain Bolt was born August 21, 1986 in Sherwood Content, a small town in Jamaica. His full name is Usain St. Leo Bolt. He grew up with hisparents, who ran a local grocery store, and brother and sister.
As a child, Usain enjoyed playing sports such as cricket and football. He had a love for cricket and spent much time playing the game. He calls cricket his first love.
During his time at Waldensia Primary School, he began sprinting and by the time he was twelve was the school's fastest 100-meter runner. His track and field career flourished in high school where his coaches noticed his strong athletic ability and began focusing on that.
Early Competitions and Championships
Bolt entered his first competition in 2001, where, at the age of 14, he won the high school championship and took the silver medal in the 200-meter race. This was just the start of many wins for Bolt. At 15, he went to the 2003 World Junior Championships in Kingston, Jamaica. He won the 200-meter race and became the youngest junior gold medalist. He was given the nickname "Lightning Bolt" and has lived up to that name.
Usain Bolt turned professional in 2004 under the guidance of his coach Fitz Coleman. He ran in the CARIFTA Games in Bermuda. He ran the 200 meters in under 20 seconds, making him the first junior sprinter to ever do so.
Bolt faced some injuries in 2005 leading him to work on flexibility and, in turn, increasing his speed. He was determined to regain his full strength and working with determination, he did just that.
Usain Bolt has eight gold medals as a reigning champion at the 2008, 2012 and 2016 Summer Olympics. If not for a teammate testing positive for a performance-enhancing drug, and the team being stripped of the gold, Bolt would have had nine gold medals. He is also an eleven-time World Champion.
Bolt was the first athlete to win three titles in both the 100 meters and 200 meters at the World Championship competition, until his relay team was stripped of their medals. He is referred to as the greatest sprinter of all time and often called the world's fastest man. His fastest run on record is 9.58 seconds in the 100 meters. No one has yet to beat this record.
Bolt is often photographed doing his signature "lightning bolt" pose after races. He is not shy and loves being in the spotlight. He has often been in the media and has given the following quotes about himself and winning:
"I'm now a legend. I'm also the greatest athlete to live."
"I know what I can do, so I never doubt myself."
"Win from within."
"A lot of legends, a lot of people, have come before me. But this is my time."
"Worrying gets you nowhere. If you turn up worrying about how you're going to perform, you've already lost. Train hard, turn up, run your best and the rest will take care of itself."
The popularity of Usain Bolt led to the creation of the biographical film, I Am Bolt. This film follows his journey to winning eight gold medals. It recaps his life and what it took to win, as well as obstacles he faced on his journey. Released in 2016 in the United Kingdom, this film was directed by Benjamin and Gabe Turner. It was produced by Leo Pearlman. In the film, Usain Bolt plays himself.
Usain Bolt decided to retire after the 2017 World Championships. He has devoted his time to many projects such as the Usain Bolt Foundation. The Foundation is "dedicated to the legacy for happy children; to enhance the character of children through educational and cultural development, as they live their dreams."
He also owns a restaurant in Jamaica. The restaurant is a music and sports bar called Tracks and Records.
In addition, Bolt has a sponsorship deal with Puma. He also has endorsements with products such as Gatorade, Visa, Virgin Media and Nissan Motors.
Some quick facts about Usain Bolt that are fun to know:
He stands 6'5" and weights 207 pounds. He is very tall for a sprinter.
He ran his second 100-meter record in 2008 with his shoe untied.
He claims to have eaten McDonald's chicken nuggets before winning gold at the 2008
Olympics.
He has a passion for dancing and music. He also has been a DJ.
His favorite video game is Call of Duty.
He has scoliosis but never let it affect his running.
He can run as fast as 23.7 mph!
He is the highest paid athlete in the history of sprinting.