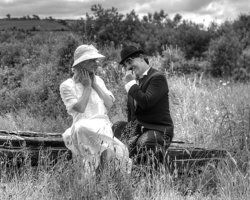 A well received comedian of his day and today, Charlie Chaplin was loved by the audiences and by the ladies. Chaplin dabbled with a few different wives, and had a number of children throughout his life.
Charlie Chaplin's Four Wives
Charlie Chaplin was married four times during his life. Let us look at a little bit of information about his four wives, the marriages, and the reasons why the marriages ended.
When Mildred was only 16 years old, she met Chaplin at a party. They spent several months dating each other and were married on October 23, 1918, when Mildred was still only 16 years of age. One of the reasons why they married so early was because Mildred told Chaplin that she was pregnant. Interestingly enough though, that turned out to be false. Perhaps Mildred really did think she was pregnant, or maybe she just wanted Chaplin to marry her.
Mildred and Charlie's lifestyles were very different, and she did not like that he spent so much time at work. They had a child together, named Norman Spencer on July 7, 1919. However, he only lived for three days. This event also put stress on the marriage, and the marriage ended the next year on November 13, 1920.
While married to Mildred, Chaplin was working on the film The Kid. Chaplin's next wife, Lillita McMurray was a star in this film. While he was getting the movie The Gold Rush together, the pair met again and Chaplin signed her to the film. Lillita was 16 years old and Chaplin was 36 when they began to romance each other. They were married on November 26, 1924, just over four years after he divorced his first wife.
Only a few months later, Lillita gave birth to their first child together, who was named Charles Chaplin, Jr. He was born on May 5, 1925. About a year later, on March 30, 1926, Sydney Chaplin entered the world. In November of 1926, their marriage ended in a bitter divorce.
When Paulette met Chaplin in the early 1930s, she was in her early 20s, making her the oldest of all of Chaplin's wives. They went on a trip to the Orient together, after a period of romancing. When they returned, they claimed that they had been married while there. People have remained skeptical about their marriage, as official marriage papers were never produced. Therefore, Chaplin may have only had three wives, but he claimed to have had four.
They started to grow apart, so they eventually divorced on June 4, 1942. They had no children together, but Paulette had played mother to Chaplin's other two children.
Chaplin took an interest in the 17 year old Oona O'Neill in 1942, not long after the divorce with Paulette Goddard had occurred. Chaplin was supposed to be giving Oona acting lessons, but they soon began to see each other romantically. They were married on June 16, 1943 in Santa Barbara, California. Chaplin was 54 years old and Oona was 18 years old.
The couple had eight children together during their life together. The youngest was born when Charlie was 73 years old. His children with Oona were:
Geraldine Leigh
Michael John
Josephine Hannah
Victoria
Eugene Anthony
Jane Cecil
Annette Emily
Christopher James
They stayed together for the rest of his life, and Chaplin died on Christmas Day in 1977. Oona lived for another 14 years before she died of cancer on September 27, 1991.