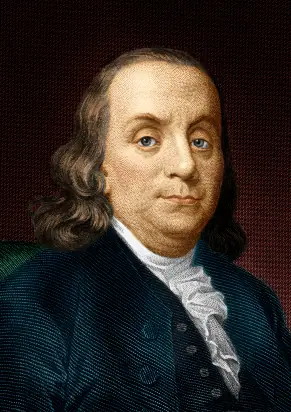 Benjamin Franklin was married once to a woman named Deborah Read. The circumstances surrounding the marriage of Benjamin Franklin are quite interesting.
Franklin knew Deborah Read from a young age. In 1723, at the age of 17, Franklin was boarding in the Read home and fell in love with the 15-year-old Deborah. He proposed to her but Deborah's mother told him that he could not marry her daughter.
Deborah's mother was not necessarily wary because of her daughter's age, but she did not allow the wedding because she felt that Franklin was not financially secure or stable. Shortly after Franklin's failed attempt to wed Read he left for London and Deborah married a man called John Rodgers. Rodgers turned out to be a liar and a thief, and the marriage lasted just a few months.
Read and Franklin found each other again after he returned to Philadelphia in 1727, but, as Rodgers whereabouts were unknown Read could not claim to be divorced or widowed, and she was prohibited from marrying again.
Since she could not formally marry, they established a common-law marriage on September 1, 1730. In a common-law marriage both parties consent to the partnership and agree to live together and act as a married couple, but they don't have an official marriage ceremony or receive a licence. Therefore, Franklin was not "married" in the traditional sense of the word. However, he and Read lived as a married couple.
Life of Franklin and Read
When their common-law marriage was established in 1730, Franklin already had an illegitimate son named William. The Franklin/Read family took William in as one of their own.
Franklin and Read had two children together. Their first child was named Francis Folger Franklin and was born in October 1732. Sadly, he passed away just four years later from smallpox. Sarah Franklin, their next child, was born in 1743.
The Franklins had eight grandchildren: Benjamin, William, Betsy, Louis, Deborah, Richard, Sarah and William Temple (son of Benjamin's illegitimate son William).
For the last 10 years of their 44-year marriage Read stayed in Philadelphia while Franklin spent all his time in Europe. in In the late 1760s, Deborah became ill and suffered a series of strokes. She eventually died of a fatal stroke in 1774 at the age of 66.