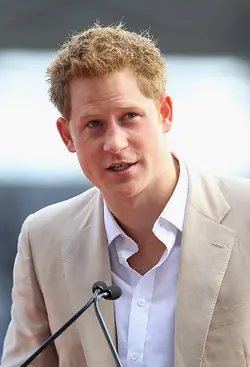 Prince Harry is the younger son of Charles, the Prince of Wales and the late Diana, the princess of Wales. His older brother is William.
Prince Henry Charles Albert David was born on September 15, 1984 at St. Mary's Hospital in Paddington.
He was christened by the Archbishop of Canterbury at St. George's Chapel in Windsor in December of 1984.
His full name is His Royal Highness Prince Henry Charles Albert David of Wales. He has always been referred to as Prince Harry.
He went to nursery school at Mrs. Jane Mynors' nursery school in London beginning at the age of three. He went to Wetherby School and then to Ludgrove School.
In 1998 he started his studies at Eton College in Windsor. He left Eton in 2003 with A levels in Geography and Art.
On August 31, 1997, his mother died.
In November of that year, he went with his father to South Africa where he went on a safari and attended a concert where the Spice Girls performed. He also met President Nelson Mandela there.
To prepare for a military career, Prince Harry attended the Royal Military Academy Sandhurst beginning in 2005.
He received his commission as an Army officer in 2006 and the Queen had the role of Reviewing Officer at the Passing Out Parade.
As a member of the Household Cavalry, he served in Afghanistan for two months between 2007 and 2008.
After that, he decided he wanted to train to become a pilot of military helicopters.
Prince Harry was presented his wings by his father on May 7, 2010 at a ceremony at the Army Air Corps Base in Middle Wallop.
Prince Harry is currently a Lieutenant in The Blues and Royals.
Medals he has received are the Queen Elizabeth II Golden Jubilee Medal (2002) and the Operational Service Medal for Afghanistan (2008).
His goal now is to be trained on the Apache attack helicopters and he could possibly see active duty again.
Recent and Current Events
Even though he is engaged in a military career, he still makes time for charitable work.
He is patron to several charities and is joint founder and patron of Sentebale, which helps children who were orphaned because of AIDS in Lesotho, South Africa.
One way he supports charities is through sports. He has joined his father and brother in polo matches that were organized for charity.
In 2009, his grandmother, the Queen, gave his brother and him their own royal household. It has a small staff to manage the household and the brothers' royal and military duties and their public and charitable activities.
Prince Harry enjoys skiing, motocross, and polo.
He has developed a reputation of being a little wild, with activities like smoking marijuana and underage drinking. However, he was known as "The Happy Prince" because he smiled so much.
He enjoys skiing and took a trip to Whistler, Canada with his father and brother in 1998.
When he turned 18 in 2002, the Queen gave him his own Coat of Arms.
After leaving Eton, he spent time in Australia and Africa, where he worked at an orphanage.
He returned home to study for the Regular Commissions Board (RCB) exams and he passed them in 2004.