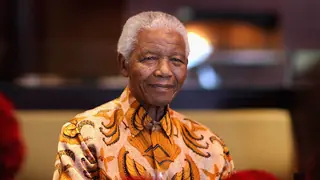 You might know what Nelson Mandela stood for, but how much do you really know about this inspirational man? Discover key Nelson Mandela facts encompassing every stage of this great leader's life.
Nelson Mandela: Quick Facts From Childhood
Learn a little about Nelson Mandela's family and childhood to better understand what kind of person he was.
Nelson Mandela was born on July 18, 1918.

He was born in Transkei, Africa.
When he was born, his name was Rolihlahla Mandela.
His birth name means "to pull a branch off a tree" and "troublemaker."

Nelson Mandela's parents were Gadla Henry Mphakanyiswa (father) and Noqaphi Nosekeni (mother).

Nelson was the youngest son of Mphakanyiswa, who had four wives and thirteen children (four boys and nine girls).
Mphakanyiswa served as a counselor to Jongintaba Dalindyebo, the acting king of South Africa's Thembu tribe.
Mphakanyiswa passed away in 1930 when Nelson Mandela was 12 years old.

After his father's death, Nelson became the ward of Jongintaba and was raised in the acting king's palace.
Facts About Mandela's Education and Early Career
Education and activism played a focal role in Mandela's life.
Mandela was given the name Nelson as a seven-year-old student in a Qunu primary school. (It was customary for schoolchildren to be given Christian names).

As a youngster, after Qunu, he attended Clarkebury Boarding Institute where he completed his Junior Certificate.
He later attended and matriculated from Healdtown, a well-known Wesleyan secondary school.
After completing secondary school, he enrolled in Fort Hare Missionary College to seek a B.A. degree.
He was thrown out of Fort Hare in 1940 for organizing a strike against the white rule of the college.
At Fort Hare he met Oliver Tambo, who became a lifelong friend and business partner.
He moved to Johannesburg in 1941.
He earned his B.A. degree in 1943 from Fort Hare, though he completed his coursework through the University of South Africa.
He then studied law at the University of Witwatersrand. He earned a two-year diploma in law (which allowed him to practice law) but did not earn an LLB degree.
In 1944, Mandela joined the African National Congress (ANC) and played a pivotal role in forming the ANC Youth League.
In 1952, he became leader of the Defiance Campaign, speaking out through civil disobedience against South Africa's unjust apartheid practices.
Also in 1952, he and Tambo formed Mandela & Tambo, South Africa's first Black-owned law firm.
He was arrested and tried several times for his activism against the country's unjust system of racial segregation.
Facts About Mandela's Imprisonment
Nelson spent a large portion of his adult life in prison.
In 1964, Nelson Mandela was sentenced to life in prison. He served 27 years of that sentence before being released in 1990.
He was imprisoned on Robben Island for 18 years before being moved to two other South African prisons.
In 1968, both his mother and son passed away. However, he was not permitted out of prison to attend their funerals. His only son passed away due to AIDS.
During his time in prison, he was able to have secret talks with F. W. de Klerk, the President of South Africa. Due to these talks, he was able to be freed.

While he was in prison, he was told that if he stopped his acts of violence, he would be allowed to go free. He did not agree to this provision.
He furthered his law studies through the Univesity of London during the early days of his imprisonment but did not graduate.
In 1989, toward the end of his time in prison, Mandela earned his LLB degree from the University of South Africa.
From Prison to South Africa's Presidency
Upon his release from prison, Mandela quickly rose to a leadership role in the African National Conference (ANC), then was elected to serve as president of South Africa.
He was elected Deputy President of the ANC in 1990.

In 1992, he was elected President of the ANC.
In 1993, Mandela shared the Nobel Peace Prize with F.W. de Klerk. They received this Nobel Peace Prize for getting rid of the apartheid system.
In 1994, he became the first president of South Africa to be elected by a democratic election in which the African National Congress was allowed to participate.
At that time, he became the country's first Black president.
Once he was finished with his presidency, he became an advocate in support of people suffering from AIDS.

In 2004, at the age of 85, he announced that he would retire from the public domain.

More Facts About Mandela's Life and Career
There was a lot more to Mandala than his activism and political life.
Mandela has honorary degrees from more than 50 universities worldwide.
His autobiography, A Long Walk to Freedom, was published in 1994. It was made into a movie in 2013.
He went on to write more books, including Dare Not Linger: The Presidential Years, Conversations With Myself and The Prison Letter of Nelson Mandela.
A hobby of his was boxing; he boxed as a youth and was a fan as an adult.

He was married in 1944 to Evelyn Ntoko Mase. They were married for 13 years.

He later married Winnie Madikizela in 1958 and they divorced in 1996 after 38 years.
In 1998, on his 80th birthday, he married Graca Machel, who was the widow of a former Mozambique president.
He fathered six children, had 17 grandchildren and many great-grandchildren.
Mandela's image was added to South Africa's currency in 2012.
Nelson Mandela was hospitalized for a respiratory infection for over a month in Pretoria, South Africa prior to turning 95.

As a result of a serious lung infection, Mandela was on life support for almost six months.
Nelson Mandela was a Christian. His last rites were administered by a Methodist minister.
Nelson Mandela died at home on December 5, 2013, at the age of 95.

His body lay in state in Pretoria and a state funeral was held in Qunu.
He was buried in the family graveyard in Qunu.
A Great Leader Who Made a Difference
Nelson Mandela is an extremely important figure in history. He was a great leader who sacrificed a great deal for his convictions, ultimately making life better for his country and its people. Learn more about his life and contributions by reviewing more detailed information about Mandela. For inspiration, view a selection of Mandela's most moving quotes.