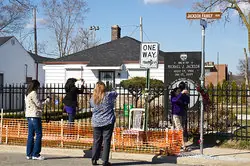 The famous pop star Michael Jackson was born in Gary, Indiana, a suburb of Chicago, Illinois, in August of 1958.
Michael Jackson's Birth Home
The home owned by his family at the time of his birth is still standing in Gary, and has been a mecca for fans in the past, particularly at the time of his death in 2009.
The house is located on a street that has, in the years since Jackson's childhood, been renamed "Jackson Street."
More Facts About the Jackson Family
Michael Jackson was the eighth of ten children, born to a steel mill worker father and a devoutly religious mother.
The Jackson 5, a musical group formed of Michael and his brothers that began playing together in 1964, was Jackson's first encounter with musical fame.
The Jackson 5 recorded multiple songs, won local talent shows, and eventually skyrocketed up the charts and signed with Motown Records in 1968.
Several of Michael Jackson's siblings have also enjoyed varying degrees of fame, including Latoya Jackson and Janet Jackson. However, Michael Jackson is arguably the most famous of the Jackson children.
Michael Jackson's Solo Career
Michael Jackson's own solo music career began in the 1970s but really took off in the 1980s, when he became a dominant pop music figure on the scene.
His 1982 album "Thriller" remains the best-selling single album of all time, and Jackson is known for more number-one singles in the U.S. than any other male musician of his era, among other record-breaking statistics.
Adult Homes of Michael Jackson
As Jackson grew older and his career moved forward, he left his home in Indiana, as did his brothers and sisters.
In 1988, he purchased a sizable acreage package of land near the city of Santa Ynez, California, and used the space to build what became known as Neverland Ranch, his sprawling estate, private home, amusement park, and the basis for his private life.
The Ranch included everything from a Ferris wheel to a menagerie and movie theater on the grounds, and was valued at over $100 million in the early 2000s.
A staff of 40 employees patrolled and helped manage the grounds, even when Jackson was not on the premises; this home was certainly a far cry from the working class neighborhood of Gary, Indiana.
Jackson remained proud of his roots, and of how hard he had worked to achieve his wealth and status.
He remained living at Neverland for most of the remainder of his life, but upon his death it was to Gary, Indiana that many fans went, armed with signs, mementos, candles, and bouquets.
The simple reminder that Jackson was an ordinary person from an ordinary town was part of what constituted his appeal for so many of his fans, who had grown up listening to his music and watching his work as an artist evolve.