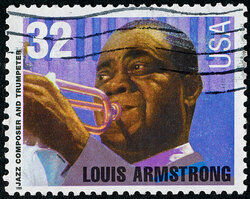 Louis Armstrong formally joined King Oliver's creole jazz band in Chicago in 1922.
Louis Armstrong Joins King Oliver's Creole Jazz Band
In 1919 Louis Armstrong played in St. Louis, but it was not until 1922 that he received the fabled telegram from his mentor and idol Joe "King" Oliver, asking him to come to Chicago to play with his Creole Jazz Band in the Windy City.
Here is the background:
Louis Armstrong, better known by his nickname "Satchmo," was one of the most influential jazz musicians of the 20th century. Born in 1901, he was a native of New Orleans, and spent two years in reform school between the ages of twelve and fourteen before taking a variety of odd jobs and eventually starting to visit nightclubs such as the Funky Butt Hall to listen to the jazz performers who were there.
It was there that he met jazz musician Joe "King" Oliver, who took a liking to the young Louis and decided to mentor him and help him grow in the musical trade.
After meeting Joe Oliver, Armstrong spent a number of years from 1917 to 1922 playing in a variety of different, mainly regional, jazz bands in the New Orleans area.
It wasn't until Louis Armstrong joined King Oliver's creole jazz band in Chicago that Louis Armstrong's career really took off.