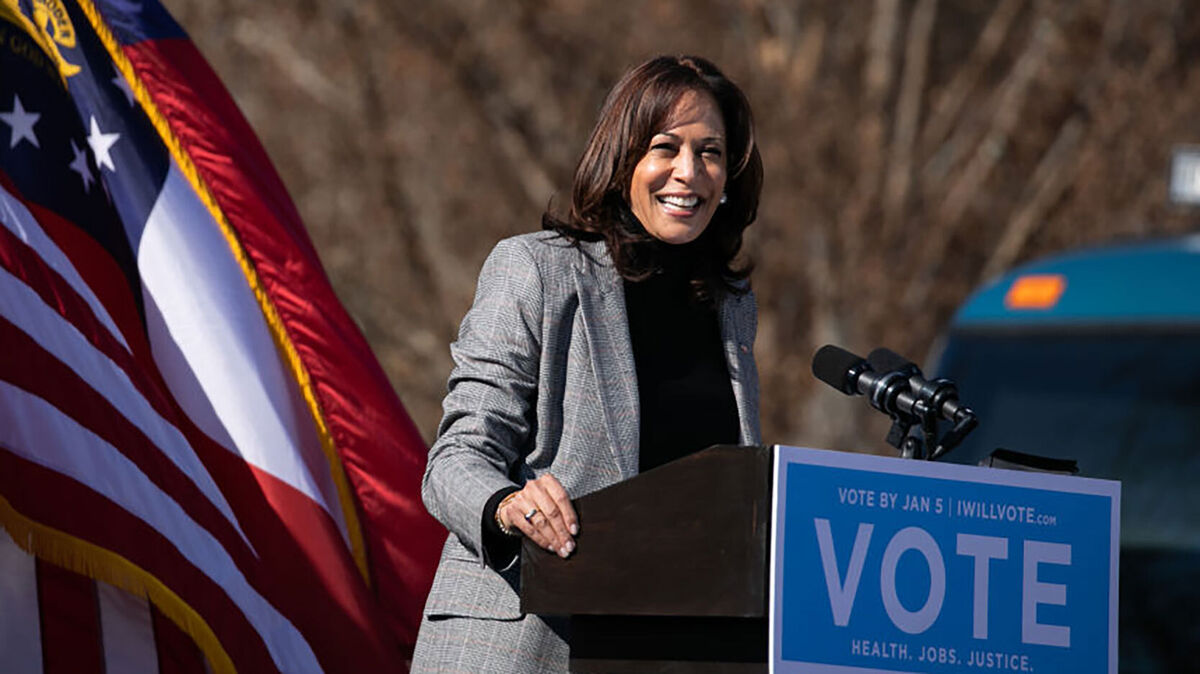 On January 20, 2021, Kamala Harris became the first female vice president, as well as the first Black and South Asian-American vice president of the United States. Her historic path to being selected as President Joe Biden's running mate began over 3,000 miles from Washington, D.C. Learn more about Kamala Harris and her family, her legal and political accomplishments, and her legacy.
Kamala Harris: The Early Years
Kamala Devi Harris was born on October 20, 1964 in Oakland, California. Her mother, Shyamala Gopalan, was a prominent breast cancer researcher, and her father, Donald J. Harris, is an economist and professor emeritus at Stanford University. Both of Harris' parents were immigrants to America (her mother from India, her father from Jamaica), and both earned their PhDs before Kamala was two years old.
Her parents divorced when Kamala was seven and her younger sister Maya was three. The girls traveled back and forth between Oakland and Palo Alto to stay with their parents. They often visited their father's family in Jamaica and their mother's family in India, where Kamala was strongly influenced by her grandfather, P.V. Gopalan, in the field of civil service and democracy.
Both Kamala and Maya grew up going to civil rights marches and protests from the time they were toddlers. They sang in a Baptist choir at their father's church and learned about Hinduism from their mother, making their childhood well-rounded.
Kamala and Maya were bused to Thousand Oaks Elementary School as part of the city's desegregation program. Their experience in this program led to Kamala's future focus on racial justice in both education and in criminal prosecution. In 1976 the girls moved to Quebec, Canada, when their mother began teaching and research at the Jewish General Hospital. Kamala graduated from Westmount High School in 1981 and began attending the historically black university Howard University in the fall.
She was very active at Howard as part of the debate team, chair of the economics society, sister at Alpha Kappa Alpha sorority, and clerk for then-Senator Alan Cranston. After graduating in 1985, Harris earned her law degree from the University of California at Hastings and passed the bar in 1990.
Her Career In Criminal Justice
Kamala Harris' reputation as a strong prosecutor comes from her history in California law enforcement. She began her career as a deputy district attorney in Alameda County before moving to the San Francisco District Attorney's office in 1998. She prosecuted homicide, sexual assault and burglary cases as chief of the Career Criminal Division.
Harris soon moved to San Francisco City Hall, where she ran the Family and Children's Services Division. She raised her national profile in 2002 when she won the District Attorney (D.A.) race in San Francisco, making her the first person of color in San Francisco to do so. She went on record that she would never seek the death penalty in her cases, and she did not, despite much political pressure at the time.
Kamala Harris' Accomplishments as D.A.
During her eight years as District Attorney, Kamala Harris focused on environmental crimes by creating a new unit in the department. Her attorneys had over an 85% conviction rate for homicides and gun crimes. Harris pushed for harsher consequences for crimes involving guns, including higher bail and minimum 90-day sentences for possession of firearms.
Harris also created a Hate Crimes unit that focused on crimes against school-aged members of the LGBT community. She oversaw the prosecution of nearly 2,000 marijuana convictions, although the majority of these cases did not receive harsh sentences. All of these offenses, along with all marijuana offenses dating back to 1975, were expunged by George Gascón, who succeeded Harris as district attorney.
Harris Is Elected Attorney General of California
When then-Attorney General Jerry Brown decided to run for governor of California in 2010, Kamala Harris announced that she would run to fill his vacated position. She won the nomination in June 2010 and defeated Steve Cooley, Los Angeles County district attorney, in a narrow margin. Kamala Harris became the first female, Black and South Asian American person — a trend that she would continue throughout her life.
Fighting for California as Attorney General
During her six years as California Attorney General, Kamala Harris continued her focus toward criminal justice that had gained her notice as San Francisco D.A. Harris created the Mortgage Fraud Strike force in 2011 as a response to the national and state-wide housing crisis. She advocated for Californians in national lawsuits against the failed banks of the 2008 recession, including the National Mortgage Settlement. Harris also defended defrauded students of the Corinthian Colleges and credit card customers who had been illegally charged by JP Morgan Chase.
Harris supported privacy rights in her Privacy Enforcement and Protection unit, which focused on cyber privacy and identity theft, particularly through large breaches of data. She brought cases against Comcast and Houzz on behalf of Californian customers.
Additionally, Attorney General Harris investigated cases related to criminal justice reform by forming the Division of Recidivism Reduction and Re-Entry with district attorneys across California. She co-sponsored legislation regarding defense attorneys' use of the gay and trans panic defense as a rationale for hate crimes, and was instrumental in California becoming the first state to do so.
Harris also prioritized prosecution of the parents of truant children, environmental crimes, working through the backlogs of untested rape kits, eliminating racially based use of deadly force by police officers, prosecuting those charged with electronic sex crimes, and preventing transnational drug crimes and criminal behavior.
In 2016, the Attorney General announced that she was running for the Senate seat vacated by retiring Senator Barbara Boxer. She won the election against Loretta Sanchez, a fellow Democrat, and spent the next four years raising her national profile even more as the second Black woman and first South Asian-American Senator in American history. Harris joined the Congressional Asian Pacific American Caucus, the Congressional Black Caucus and the Congressional Caucus for Women's Issues.
During her time in the Senate, Harris served on the Homeland Security and Governmental Affairs Committee, the Select Committee on Intelligence, the Committee on the Budget, and the Committee on the Judiciary. Harris brought her prosecutorial skills to bear in the Supreme Court hearings of Neil Gorsuch and Brett Kavanaugh and voted in favor to impeach President Donald Trump in his first impeachment trial in 2020.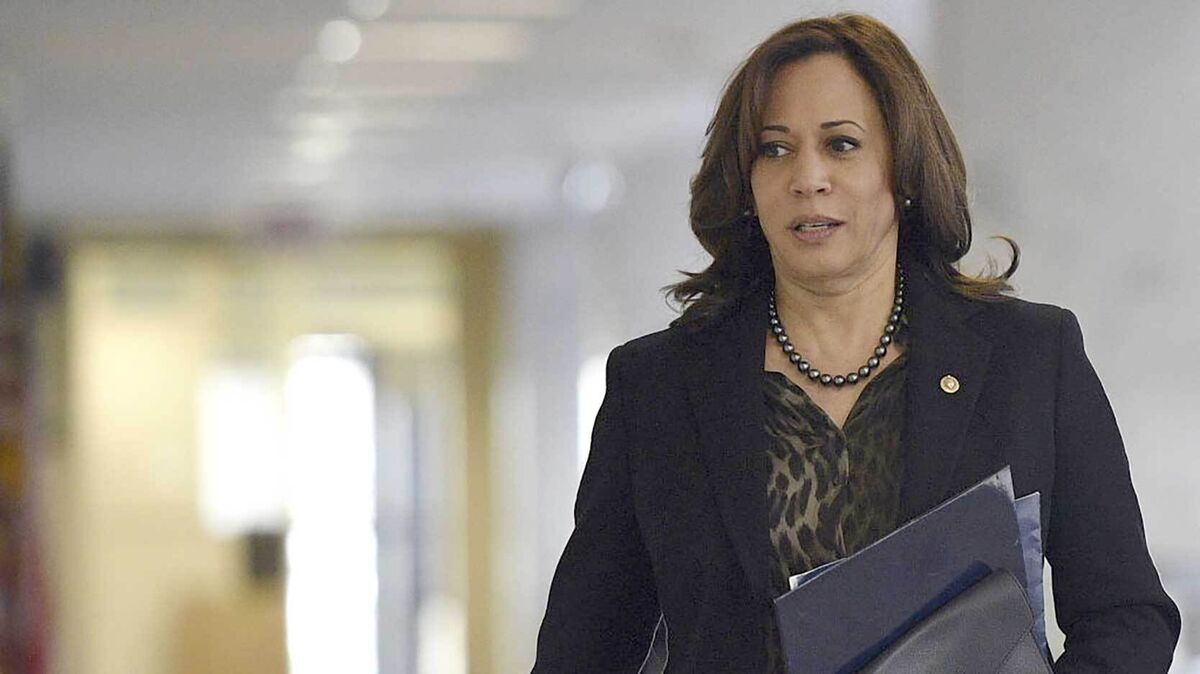 The Road to the Vice Presidency
Kamala Harris announced that she would run for president in January 2019. She made headlines for her sharp words during the Democratic presidential debates, especially in an interaction with her future running mate Joe Biden after his comments about school bussing — which she herself had experienced as a child. However, Harris' polling numbers remained relatively low, and she bowed out of the presidential race nearly a year later.
When Joe Biden won the Democratic nomination in early 2020, Harris' name came up in many conversations as a possible running mate. He had committed to choosing a female vice president in a March 2020 debate, and despite their early disagreements during the presidential campaign, Biden announced in August that he would be adding Kamala Harris to his ticket as vice president.
Following a contentious presidential election and a protracted period of receiving vote totals, Joe Biden and Kamala Harris won the presidency and vice presidency of the United States in November 2020. Harris is the first Californian to serve as vice president since Richard Nixon, and the second Californian ever to be elected to the White House.
Shyamala Gopalan, Kamala Harris' mother, passed away in 2009 after a diagnosis of colon cancer. Harris' father, Donald Harris, retired from Stanford University in 1998 and continues to work in the field of economics. Her sister, Maya Harris, attended the University of California at Berkeley before pursuing her law degree at Stanford University. She is now a prominent lawyer and political commentator. Her daughter and Kamala's niece, Meena Harris, is also a lawyer and worked on Kamala's Senate campaign.
In 2013, Kamala Harris married attorney Doug Emhoff and became stepmother to his children. Emhoff became the very first Second Gentleman in American history when Harris was inaugurated vice president in 2021.
Following in the Footsteps of Historic Women
Kamala Harris may have been the first female vice president, but she likely won't be the last. Generations of young girls, particularly young girls of color, learned that they could follow in the footsteps of Kamala Harris, the daughter of immigrants who made her way to the vice presidency. For more reading on influential women in American history, learn all about Stacey Abrams and her fight for democracy in the American South. Or, if you'd like to read about a major influence of these women and Black women everywhere, check out these amazing facts about Rosa Parks.