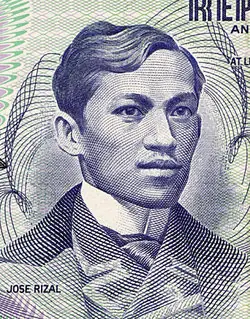 Jose Rizal's background shows how he built his skills for writing and providing support as a freedom fighter in Cuba.
Here is a biography of Jose Rizal, beginning with his early life:
Jose Rizal was born in Calamba, Laguna in the Philippines in June of 1861 and was named Jose Protasio Rizal Mercado y Alonso Realonda.
Jose's family lived on rented property that was owned by a religious order from Dominica, which made them a family of wealthy farmers.
Although the family were descendents of a Chinese immigrant, the family began using Mercado as their last name in order to hide their family background because of sentiments against the Chinese at the time.
Youthful Intellectual Endeavors
Even as a young child, Jose showed that he had superior intelligence.
He was reciting the alphabet by the age of three and was able to read and write by the age of five.
Jose graduated high school with the highest honors at the age of 16. He concentrated his studies in land surveying.
After leaving high school he further pursued his training in land surveying and completed training in 1877. He passed the exam to get his license in this field in May of 1878. However, he was unable to receive the license because he was just 17 and thus underaged at the time. He was not given the license until he came of age in 1881.
When Jose could not get his license, he decided to take classes and become a medical student at the University of Santo Tomas. However, he did not stay in attendance for very long at this school because he said that the Dominican instructors were being discriminatory of Filipino students.
After dropping out and receiving his license as a land surveyor, Jose went to Madrid and enrolled in the Central University of Madrid in May of 1882.
At the age of 23, he graduated with a medical degree.
The year after he graduated with his medical degree he obtained a degree from the department of Philosophy and Letters.
Rizal went back to school once again to advance his knowledge in the field of ophthalmology. He studied in Paris and Germany and completed another doctorate degree in Heidelberg in 1887.
Jose then moved to Europe where he remained for ten years.
During the time spent in Europe, Rizal learned 10 languages and could speak them all fluently.
He impressed everyone he met because of his wit, charasmatic personality and intelligence.
He also wrote his first novel during the time he was in Europe and continued to write even more novels throughout his life. One of the novels he wrote, titled Noli Me Tangere, was printed in Berlin in 1887. However, this novel offended Catholic church officials and members and, despite his apologies, he was listed as a troublemaker.
Rizal eventually was exiled for his writings which called for reform in Spain. However, he returned to the Philippines in 1892 where he promptly faced accusations of being there to start a rebellion.
He was sent in exile to an island where he taught for approximately four years.
It was during this time that he met a girl named Josephine Bracken. They requested a license to marry, but because of his troubles with the church they were denied.
In 1896, revolt for Spanish reform was out of hand and Rizal opposed the violence openly.
He decided to visit Cuba and was granted permission to do so. On the way to Cuba he was detained and thrown into jail. He was tried by the courts and charged with the crimes of conspiracy, rebellion, and sedition.
Despite denying the charges vehemently he was sentenced to death. Approximately two hours prior to being executed, he was permitted to marry Josephine.
On December 30, 1896, he was shot by a firing squad at the age of 35.