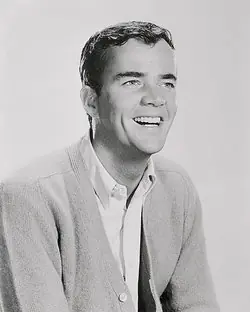 The actor Jim Hutton was married twice. His first wife was a teacher by the name of Maryline Adams, but that marriage lasted just five years. His second marriage to Lynni Solomon was even shorter.
Jim Hutton was briefly married to actress Maryline Adams (née Poole) from 1958 to 1963. Maryline was the mother of his son, Timothy Hutton, who later became an acclaimed actor in his own right. The couple also had a daughter named Heidi, a year older than Timothy.
Jim and Maryline divorced when Timothy was three. Jim was estranged from his first wife and children for a long time — almost twelve years.
In 1970 Hutton married Lynni Solomon. They had one daughter, Rebecca "Punch" Hutton. That marriage lasted just three years. Jim and Lynni divorced in 1973.
Lasting longer than either of his marriages, Hutton had a long-term, on again-off again relationship with actress and pin-up model Yvette Vickers. The couple came together and drifted apart often over the course of 15 years, from 1964 up until Jim Hutton's death in 1979. Hutton was just 45 years old.
Born Dana James Hutton in 1934, Jim Hutton was an actor during the Hollywood heyday of the 1960s and 1970s. He was very popular for his work on the big screen and the small screen. While serving in the US Army in Germany, Hutton was discovered by famed director Douglas Sirk, and cast in a small role in Sirk's movie A Time To Love and A Time To Die (1958). After Hutton left the army he moved to Hollywood.
After that, he was cast in a mix of drama and comedy roles, typically as a bumbling war hero or an everyman role that people could relate to. His first big success was in the movie Where the Boys Are (1960). He later starred in The Green Berets (1967) and Hellfighters (1968) alongside John Wayne.
In the 1970s, Hutton began to work more in television than on studio movies. He's probably most well-known for his role on the 1970s TV series Ellery Queen.
Fun fact: Many fans assumed that Hutton was married to actress Paula Prentiss, because he starred opposite her in a number of movies and they had great on-screen chemistry. However, they were simply teamed together by the studio as they were both tall and audience feedback on the pairing was positive.