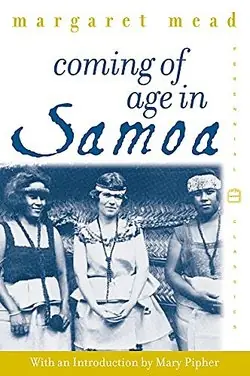 <a href="https://www.amazon.com/dp/0688050336/">Coming of Age in Samoa</a>
How old was Margaret Mead when she died? She was 76.
The famed cultural anthropologist Margaret Mead had a full and productive career before dying of pancreatic cancer in November 1978, shortly before her 77th birthday. Her final resting place can be found in Buckingham, Pennsylvania at the Trinity Episcopal Church Cemetery.
Facts About Margaret Mead's Life
While it would be impossible to sum up the entirety of Margaret Mead's life and influence, particularly in the realm of cultural anthropology, in the space of a single page, here are some key highlights and facts from her time on Earth.
Margaret Mead was born in Philadelphia in 1901. She was the first of five children and was raised in the small town of Doylestown, Pennsylvania, about 35 miles from Philadelphia.
Her early life involved self-exploration and a search for religious expression; she eventually settled on the Episcopalian Church and was a respected and prominent member of the church for the duration of her life.
Margaret Mead was very well known for her work; aside from completing research, she was also a prolific speaker and writer. Some of her most notable work includes Coming of Age in Samoa from 1928 and Sex and Temperament in Three Primitive Societies in 1935. The latter was a particularly influential work in the mid-20th century feminist movement.
She received a Ph.D. from Columbia University in 1929, following her bachelor's degree from Barnard College in 1923 and her master's degree at Columbia University in 1924.
She served as an executive secretary on the National Research Council's Committee on Food Habits during World War II.
She worked as a curator of ethnology at the American Museum of Natural History in New York City from 1946 until 1969, having previously worked at the museum as an assistant curator starting in 1926.
She was a professor at various east coast universities.
She was president of the American Anthropological Association in 1960 and held numerous positions in various other national science organizations.
No explanation of Dr. Mead's life would be complete without some details on her research:
Margaret Mead's research was focused largely on child-rearing and its relation to culture and society. She conducted several studies in the South Pacific regarding aspects of psychology, gender roles, and cultural conditioning in those societies.
Her research and writings were a large part of the cultural revolution of the 1960s era. She challenged many traditional values and beliefs of the western world by forcing people to examine their own accepted, unexplored assumptions about topics ranging from sex to religion.
In her 77 year lifespan, Margaret Mead had many accomplishments and was a valuable contributor to her field.
Now that you're a bit more familiar with Margaret Mead and her work, why not explore the field further with some insightful anthropology quotes? As Edward Sapir once said, cultural anthropology in particular "is valuable because it is constantly rediscovering the normal."