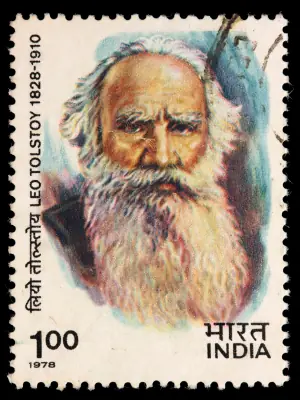 Famous Russian novelist Leo Tolstoy died at the age of 82 from pneumonia in 1910. He was buried at his home estate, Yasnaya Polyana near Tula, Russia. He estate operates today as a writer's house museum and his unadorned grave can be found in the park. Before he died, Leo Tolstoy led a very rich and interesting life.
Leading up to his death at the age of 82, Leo Tolstoy already began to suffer through poor health. His family was concerned, engaging in daily care for him. However, he decided to leave his home in secret in the middle of the night, separating from his wife. This was during the middle of winter in Russia.
He traveled south by train for just one day before he died of pneumonia at Astapovo train station. There, Tolstoy was taken to the station master's apartment and doctors injected him with morphine and camphor.
The train station was later renamed in his honor in 1918 as Lva Tolstogo, and then in 1932 to Lev Tolstoy.
Best known, of course, for his masterpiece novel War and Peace, Leo Tolstoy led a somewhat tumultuous life that no doubt served as an incredible source of inspiration for his writing. Tolstoy was both prolific and talented, and produced about fifteen books throughout his career, including Anna Karenina. In addition, he also wrote a number of novellas, like Family Happiness, as well as plays and philosophical essays.
Tolstoy's life became chaotic early on, with the death of his mother when he was two years old. This was followed by the murder of his father when he was just nine years old. The death of a beloved grandmother came after that, and Tolstoy and his siblings were sent to live with various relatives throughout their unhappy childhoods. This tumultuous upbringing surely colored his outlook on life.
Tolstoy joined the military after dabbling around in university studies; he began to write around this time period as well, beginning with autobiographical works or fiction pieces loosely based on his life.
Eventually he left the military and traveled Europe for a few years, before settling and marrying Sophia Andreevna Behrs. She was 16 years younger. Together, they had a total of 13 children, three of whom died in infancy, and two before died by the age of seven.
He began to write in earnest, devoting years to his novels; he experienced a brief period of spiritual confusion that resulted in a moral non-fiction book entitled Confession.
This brought him to the attention of the military police in Russia, and created some tension during the later years of his life. Tolstoy, ultimately unsure of his own moral code and how he felt about the system of society in general, signed the copyright of all of his writings from before 1881 over to his wife.
While our time on Earth is inherently finite, authors have found a way to outlive their years by way of their words. To look more into the lives of writers with decidedly different approaches than Leo Tolstoy, read up on some A.A. Milne facts and how Winnie the Pooh came to be. Another notable children's writer is Shel Silverstein, author of The Giving Tree.