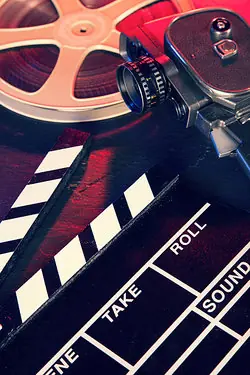 Melvin was a screenwriter, producer and director. He lived from August 13, 1913 to October 13, 1988 during which time he played a key role in many successful Hollywood movies including the Bob Hope and Bing Crosby "Road" movies.
On October 13, 1988, Melvin Frank died from complications during open-heart surgery in Los Angeles. He was 75 years old. He was survived by his wife, Juliet, his children Elizabeth, Andrew, and James, and three grandchildren.
In his prolific career, he directed 17 movies, produced 18 movies, and wrote or co-wrote 34 movies. He wore two hats in many of them, writing and directing, writing and producing, or sometimes wore three hats: writing, producing and directing. Writing was a big part of his contribution to the film industry.
He wrote or co-wrote the following:
In the 1940s: The Return of October, A Southern Yankee, Mr. Blandings Builds His Dream House, It Had to Be You, Monsieur Beaucaire, Our Hearts Were Growing Up, Road to Utopia, Duffy's Tavern, The Princess and the Pirate, And the Angels Sing, Thank Your Lucky Stars, Happy Go Lucky, Star Spangled Rhythm (sketches), and My Favorite Blonde (story).
In the 1950s: Li'l Abner, The Jayhawkers!, That Certain Feeling, The Court Jester, White Christmas, Knock on Wood, Above and Beyond, Callaway Went Thataway, Strictly Dishonorable, and The Reformer and the Redhead.
From 1960 to 2007: Are We Done Yet? (screenplay for Mr. Blandings Builds His Dream House), Lost and Found, The Duchess and the Dirtwater Fox, A Touch of Class, Buona Sera, Mrs. Campbell, Not with My Wife, You Don't!, A Funny Thing Happened on the Way to the Forum, Strange Bedfellows, The Road to Hong Kong, and The Facts of Life.
He had a life of bringing laughter to many people through his writing, directing, and producing of comedies. Most of films of this genre have a happy ending.
Comedy films put a lot more emphasis on the stars of the movie, probably because many of the stars used to be stand-up comics and are making movies because of their popularity. Comedy films are one of the oldest kinds of movies. Some of the first silent movies were comedies.
He was born on August 13, 1913 in Chicago, Illinois. He was working toward an engineering degree at the University of Chicago, when he met another student by the name of Norman Panama.
They became a comedy writing duo and wrote material for Broadway revues. They were hired in 1938 by Bob Hope, who was then a radio comedian. This job led to a contract with Paramount Pictures, where the team worked with Bob Hope, Betty Hutton, and Bing Crosby.
They collaborated on the "Road" movies which starred Bob Hope, Bing Crosby, and Dorothy Lamour. They also worked on other comedies, notably Mr. Blandings Builds His Dream House in 1948, which they also produced. Between 1949 and 1960, Frank and Panama wrote and produced several movies, including Knock on Wood starring Danny Kaye, in 1954 and The Court Jester in 1956.
In 1960, they decided to pursue individual careers and dissolved the partnership on friendly terms. Frank created his own production company in England, continuing to write and direct. Both men continued to be successful, and two of Frank's best efforts were Buona Sera, Mrs. Campbell in 1968 and A Touch of Class in 1973.
Frank and Panama shared a "Best Original Screenplay" Emmy nomination for the movie The Road to Utopia in 1945. It starred Bob Hope and Bing Crosby.
Starting in 1950, the team of Frank and Panama produced, wrote and/or directed ten of the top grossing films for MGM and Paramount. They received two more Oscar nominations, in the screenwriting category, for Knock on Wood and The Facts of Life starring Bob Hope and Lucille Ball. After their split, Frank won his fourth Oscar nomination for A Touch of Class, in 1973.