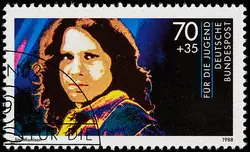 No autopsy was performed on the body of Jim Morrison nor was there much of an examination. The story told by his girlfriend changed on every telling, and rumors still exist today as to how he died.
By the time The Doors released their fourth album, drugs and alcohol were taking their toll on Morrison. His performances were affected and he was unreliable, missing sessions in the recording studio. Their next LP was "Morrison Hotel" which included the smash hit, "Riders on the Storm."
After recording "LA Woman" in 1971, Morrison decided to take some time off and moved to Paris with his girlfriend, Pamela Courson. This is where the mystery surrounding his death begins.
On the morning of Saturday, July 3, 1971, Morrison died of a heart attack, brought on by drugs. So, the simple answer to how he died is a heart attack from using heroin. However, no one is really sure what happened, as Pam's account of the events changed several times, and her story is unreliable because of her drug use and emotional state. In one account, she even lied and said he never took drugs.
Morrison's drug of choice was cocaine. He didn't like heroin, saying it made him sick. Pam however, preferred heroin, and the the two argued about this, as he didn't want her using it.
One night, he came to the apartment, and saw Pam with some white powder on the table, and when he asked what it was, she lied and said that it was cocaine. He snorted some, and almost immediately had a heart attack.
Pam panicked, ran for help, and they put him in a tub of warm water, which helps revive heroin users. But it was too late, and he died of an overdose, though not intentional, of heroin.
There was no autopsy performed, as that is only done if foul play is suspected. He was buried within three days in the Poet's Corner of Paris' Pere Lachaise cemetery. If she lied to Morrison about the drug, she may have blamed herself for his death. She died three years later of a heroin overdose.
Another version of this story has him waking up, coughing up blood, taking a bath, and then having the heart attack. Other rumors included him faking his death and his death happening at a Paris night club, and his body being taken to the apartment.
He died on July 3, 1971, at the age of 27.
Morrison's Life and Music
Jim Morrison sang and shrieked his way to fame and fortune. He was, to say the least, an emotional performer. But as with many of his genre, drugs played a big role in his life.
He was born on December 8, 1943 in Melbourne, Florida. He attended UCLA and started a rock band after he graduated with Ray Manzarek. They added two more members, Robby Krieger, and John Densmore, and named the group The Doors.
Morrison was an avid reader, and named the group after The Doors of Perception, by Aldous Huxley. Huxley got the name of his book from a poem by William Blake, "If the doors of perception were cleansed, everything would appear to man as it truly is, infinite." The group formed in 1965.
In 1967, they were signed to the Elektra Records label and their first album was taped in just a matter of days. Morrison and Manzarek made a promotional film to go along with the album, and that helped usher in the age of music videos. "Light My Fire" was a major hit from the album, skyrocketing the group's fame.
Their next two albums also did extremely well, with the album, "Waiting for the Sun" hitting #1 on the charts, along with the hit single "Hello, I Love You." In 1969, their album "The Soft Parade" added a horn section, strings, and other instrumental choices, including a saxophone.
Morrison was the main songwriter of the group, with every member contributing, which made it really a group effort.
The Doors were very talented, but also rebellious. When they appeared live on the Ed Sullivan Show, they were asked to replace the words, "Girl we couldn't get much higher" to "Girl we couldn't get much better" because it referred to drug use. Whether Morrison was nervous and forgot, or never intended to change the line, he sang it as it was written and the band's contract for additional shows was cancelled.