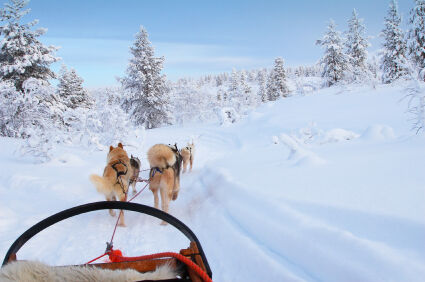 While many fictional dogs hold a special place in the hearts of fans, like Snoopy or Lassie, real life hero canines are perhaps even more deserving of reverence. And few are quite as well-known as Balto. The famous Siberian Husky sled dog Balto, who led the team to bring serum to stop a diphtheria epidemic, died in 1933, at 14 years of age.
While you may be led to believe any number of possible theories surrounding the life and times of the famous Husky, the final days of Balto are decidedly more straightforward.
In the end, Balto simply died of old age at the Cleveland Zoo. After his death, his body was mounted and put on display in the Cleveland Museum of Natural History in Ohio. It is still on display there today.
If you visit Central Park in New York City, you'll also find a statue of Balto on display. Sculpted by American Frederick Roth, the statue was erected in Central Park in December 1925. Balto himself was even present for its unveiling. You can find the statue near the main path leading toward the Tisch Children's Zoo, not far from Central Park Zoo.
There is much more to know about Balto than just how he died.
Before his rise to fame, Balto was actually considered to be an "inferior" or "slow-working" dog.
Balto's well-known story began in January 1925, when an epidemic of diphtheria broke out in Nome, Alaska.
There was a medication available that could stop the epidemic, but none was within easy distance.
The nearest serum was, in fact, in Anchorage, Alaska, which was well over one thousand miles away from Nome. There was no easy way to transport the serum from Anchorage to Nome. The only aircraft available had a frozen engine and failed to start.
The serum was first transported by train to Nenana.
With limited options for travel in the midst of a frozen Alaskan winter, the medication was sent the rest of the way to Nome by sled dogs.
A relay of more than twenty mushers in the midst of a blizzard set out to deliver the medication. Temperatures got as low as -23 F (-31 C), plus incredibly strong winds.
Balto was the lead dog on the final leg of the journey into Nome, which involved the now iconic Iditarod trail. He kept his team alive in incredibly perilous conditions.
His musher, Gunnar Kaasen, attributed their survival and success to Balto. Indeed, Kaasen said that he could barely see, but Balto continued leading the team through near whiteout conditions.
Arriving into Nome, Kaasen was meant with many thanks. Kaasen then suggested that Balto should share in the spotlight.
Nearly a century after Balto's death, his legacy continues to live on. The famous sled dog's life was captured in an animated film in 1995; with it, Balto's immense fame as a loyal and heroic canine was sealed. Today, the "serum run" across Alaska is honored with the annual Iditarod Sled Dog Race.