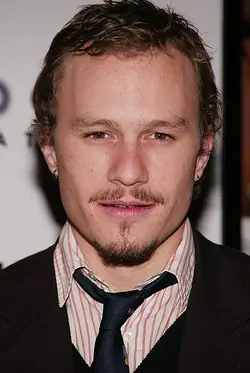 During Heath Ledger's short life he had many great accomplishments, he left this earth in a tragic manner, far before he ever should have.
Heath Ledger was born to Sally Ledger and Kim Ledger in Perth, Western Australia, on April 4, 1979. At the age of 10, he acted in his elementary schools' production of Peter Pan, which was the first time that he was on stage. His career would last for only another 19 years, but what an amazing and prosperous 19 years it was.
The relationship that Ledger was most famous for was with Michelle Williams. The two played a married couple in the 2005 hit Brokeback Mountain, and their relationship took off from there. They had a daughter together named Matilda Rose on October 28, 2005.
Once Ledger passed away, a great deal of attention was focused on Matilda Rose, since the world wondered what would happen to this little girl who was now going to grow up with so many people knowing who her father was, yet she would not get to know him. Before Ledger passed, he and Williams had split up. However, she was distraught when he left this world.
Professional Career of Heath Ledger
Ledger had a few roles in Australian television shows and movies back in the 1990's. However, he struck a chord when he played a bad boy role in 10 Things I Hate About You in 1999. At this point, Ledger became the center of many teenage girls affections, as his golden curls, soothing voice, and tough-but-sweet personality won their hearts in this role.
Throughout the early part of the 21st century, Ledger's popularity boomed, as he took leading roles in some famous movies of our time including:
The Patriot
Monster's Ball
A Knight's Tale
The Four Feathers
The Order
Ned Kelly
Casanova
Lords of Dogtown
The Brothers Grimm
Brokeback Mountain
Candy
I'm Not There
Many people saw the film The Dark Knight, which came out soon after Heath Ledger passed away. Even those who were not fans of the film series came out to see their beloved actor for one last time. His performance was chilling, not just because of how incredibly well he performed as the Joker, but because people could feel his presence from beyond the grave. Rounds of applause echoed in movie theaters at the end of the film for this fallen hero.
On January 22, 2008, panic spread through the air as fans and celebrity followers frantically sent each other text messages and emails alerting each other of the rumors they were hearing. At 3:36 pm on that fatal day, Heath Ledger had been pronounced dead. He was found in his apartment in Manhattan.
People could only speculate, until a couple of weeks later when it was announced that Ledger had died of an accidental overdose of prescription drugs.
Several memorial services, both private and public, were held for Ledger. His body was returned to Perth, where he was cremated at Fremantle Cemetary. His ashes were laid next to the bodies of two of his grandparents at Karrakatta Cemetary.
After his death, he received several posthumous awards, including the Golden Globe Award for Best Supporting Actor and the Academy Award for Best Supporting Actor.