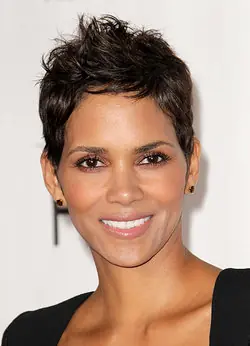 Throughout the later part of the 20th century, Halle Berry began to make a name for herself. She has received acclaim for both her acting skills and her tremendous beauty.
Halle Berry was born on August 14, 1966, making her still in the prime of her career today. She was born in Cleveland, Ohio to Jerome Jesse and Judith Ann Berry.
There were some difficult family situations during Berry's early childhood. When she was four years old, her parents divorced. She and her sister lived with their mother, and she does not know what has become of her biological father.
Unlike some actors and actresses, Berry did not engage in a great deal of performances during her youth. She went to high school and then off to Cuyahoga Community College.
When she was in her late teens and 20's, Berry started entering beauty pageants. She was first known for her modeling career, before she entered the acting domain. When she found that she was quite well received in the modeling and pageantry world, she decided to take a shot at acting.
In 1989, Berry started acting on a television series, and in 1991, Berry received her claim to fame in the Spike Lee film entitled Jungle Fever.
After she started acting in movies, the offers to appear in other films kept coming in for Berry, who struck the world of Hollywood with her brilliant skills and her astoundingly good looks. Other movies in which she has appeared include:
The Program
Fatherhood
The Flinstones
Losing Isaiah
Why Do Fools Fall in Love?
Introducing Dorothy Dandridge
X-Men
Monster's Ball
Die Another Day
Gothika
Their Eyes Were Watching God
Things We Lost in the Fire
Frankie & Alice
People across the world know Halle Berry. Furthermore, she has received a number of awards during her career. The 2008 BET Award for Best Actress and the 2007 People's Choice Award for Favorite Female Action Hero are just a smattering of the successes she has had.
No matter what a celebrity has done in the public arena, people always seem to be interested in his or her personal life. A well known fact is that she was married to David Justice from 1993 until their separation and divorce in 1996 and 1997, respectively.
Shortly after the divorce with Justice was finalized, Berry met singer Eric Benet. Four years later, in 2001, they were married. However, after only two years of marriage, Berry and Benet separated.
Berry and model Gabriel Aubry dated for about three years and they had a daughter together on March 16, 2008. Their daughter is named Nahla. However, in the middle of 2010, the couple announced that they would be ending their relationship. They had an extended fight over the custody of Nahla. In 2013 Berry and Aubry settled their custody dispute and Berry married French actorOlivier Martinezwith whom she had a son in 2013.