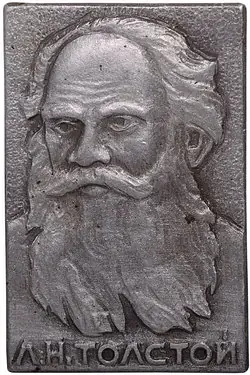 The Tolstoy family was considered to be noble and important in Russia. Tolstoy and his family are believed to have gotten their start from a man named Indris.
Indris immigrated from Germany to Russia in 1353.
It was here that he was baptized, given a new name, and served as military governor.
He was the founder of several families which were considered to be noble.
Indris' great-grandson, Andrey Kharitonovich, moved to Moscow, the center of Russian wealth and power. His military knowledge and good looks served him well as he schemed for wealth and influence.
Andrey became the Grand Duke Vasiliy Tolstoy and the family thrived and profited from Russia's growth and success.
Tracing Tolstoy's Geneology
According to Leo Tolstoy, His Life and Work, (compiled by Pavel Biryukov and Revised by Leo Tolstoy from the 1911 English-language edition and distributed by the Tolstoy Library OnLine) on Tolstoy's father's side of the family, his genealogy actually breaks down to:
Number of Generations from Indris:
(15 Generations) Peter Andreyevich Tolstoy was the first Count
(16 Generations) Ivan Petrovich
(17 Generations) Andrey Ivaonvich
(18 Generations) Ilya Andreyevich, Governor of Kazan
(19 Generations) Aleksandra, married to Count Osten-Saken. Nikolay.
(19 Generations) Pelageya, married to V.P. Yushkov. Ilya (dies without children)
(20 Generations) Nikolay, Sergey, Dmitriy, Lev, and Marie
As you can see, there are many generations of nobles in the background of Tolstoy and he is 20 generations removed on his father's side from the first noble Indris.
The genealogy on this mother's side is just as impressive. The maternal ancestral line traces back through royalty including princesses and other members of royal families that allowed Tolstoy to have the upbringing and nobility that he had during his time.
Leo Tolstoy, or Count Lyev Nikolayevich Tolstoy, was born in Russia on September 9, 1828.
He was born the fourth out of five children to very loving parents, but his parents died when he was very young.
Tolstoy was raised by relatives until he came of age and was able to join the Russian army, which he did with his brother.
It is during the days that he spent with the Russian army that Tolstoy began writing.
Today he is known as one of the greatest novelists of all time, if not the single greatest novelist ever. He has written such well-known books such as War and Peace and Anna Karenina.
In addition to his writing, he also became a devout Christian in his lifetime and his beliefs influenced well-known leaders of history such as Ghandi and Martin Luther King, Jr.
Tolstoy died in 1910 of pneumonia after wandering outside alone at the age of 82.