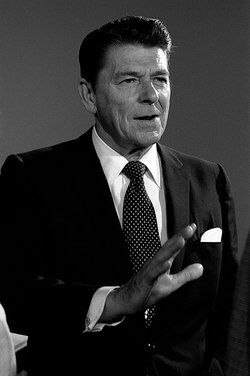 Ronald Reagan (February 6, 1911 - June 5, 2004) was an actor, governor of California, and the 40th President of the United States. He was the first actor to ever successfully achieve the highest office in the United States. He was a Republican and won the office of the Presidency for two consecutive terms. There are many interesting facts about Reagan's life, accomplishments and political career.
Ronald Reagan's Early Years
Ronald Wilson Reagan was born on February 6, 1911 in Tampico, Illinois to a working-class family in an apartment, on the second floor of a commercial building. His parents were John Edward Reagan and Nelle Wilson Reagan. He had one sibling, an older brother named Neil Reagan.
Reagan played football in high school and became a lifeguard in his free time.
Reagan had several nicknames growing up. His parents and friends called him "Ronnie," since he was a chubby little boy with a Dutch boy haircut. As he got older he had the nickname of "Dutch" because of his Dutch boy haircut.
As an adult he got the nickname of the "Gipper" when he played the leading role in "Knute Rockne, All American" in 1940, portraying George Gipp, a football player at the University of Notre Dame from 1917 to 1920 who developed a throat infection and died a few weeks later at the age of 25. Gipp told Coach Rockne on his deathbed,
"Some time, Rock, when the team is up against it, when things are wrong and the breaks are beating the boys - tell them to go in there with all they've got and win just one for the Gipper. I don't know where I'll be then, Rock. But I'll know about it, and I'll be happy."
Reagan was known to have persevered to do his best in all things, characteristics of George Gipp, another reason that Reagan was called the "Gipper."
Education, Jobs and Positions
Ronald Reagan became interested in sports, acting and other activities during his school years:
The Reagan family moved a lot throughout Ronald's childhood, but mostly throughout Illinois. At one point the Reagan family moved to Dixon, Illinois, and Reagan graduated from Dixon High School.
He attended school and helped support the household with various odd jobs. For example, as a teen, he worked as a lifeguard at Rock River near Dixon and was credited with saving 77 struggling swimmers.
Reagan also became heavily involved in various extracurricular activities. For example, he was the captain of the swim team, the yearbook editor, the president of the student body, a member of the football team, a member of the track team, and a member of the basketball cheerleading squad.
Reagan's family attended a Disciples of Christ church in Dixon. His pastor, Reverend Ben Cleaver, encouraged him to attend Eureka College, which was only 90 miles from home. One of his mentors in Dixon had graduated from Eureka. The final nudge toward Eureka was that Reagan's girlfriend decided to go to Eureka.
He drove his girlfriend to the college for registration in September of 1928, and he went straight to the President's office. In his talk with the president, Reagan asked for assistance in the form of the Needy Student Scholarship. The President was impressed with Reagan, so the college granted an athletic scholarship to the young man from Dixon. They also provided an on-campus job in the dining hall for Reagan so he could afford to eat as well as attend classes.
At the university, Reagan had a dual major in economics and sociology. His economics education served him well after he became involved in politics, as did his study of behaviors through sociology.
Reagan made the most of his collegiate experience, as is evidenced by his interest in extracurricular activities. In his four years at Eureka, Reagan:
Played football (lettered three years)
Swam on the swim team (was also coach in his last two years)
Ran track
Participated in dramatics (appeared in 14 plays)
Served on Student Senate (two years)
Served as student body president
Joined the Tau Kappa Epsilon fraternity
Served as president of the Boosters Club
Led cheers for the basketball team
He graduated in 1932 and moved back to Iowa.
Reagan wanted to get involved in the entertainment industry. So, following his graduation from college in 1932, he auditioned for jobs at many different radio stations. He was hired by the University of Iowa to broadcast football games.
Although he didn't make a lot at the University of Iowa job, other individuals recognized his talent. He was hired by another radio station in Davenport for a staff announcer's job. He quickly found another job as an announcer for the Chicago Cubs baseball team.
In 1937, while he was working for the Cubs, a screen test with Warner Brothers Pictures landed him a contract for seven years as an actor in B-movies, where he would spend the rest of his early career.
Some of his films included:
Love Is on the Air
Santa Fe Trail
King's Row
This is the Army
Cattle Queen of Montana
Hellcats of the Navy
During his acting career he was in 53 films.
Reagan enlisted in the Army Enlisted Reserve in April, 1937 and was commissioned as a second lieutenant in the Officers Reserve Corp in May, 1937.
His status as a star seemed cemented until he was ordered to active duty in World War II in April 1942. His acting career was put on hold while he served.
Due to his poor eyesight, he was excluded from serving overseas. During the war he was assigned to the First Motion Picture Unit in Culver City, California where he helped to film and produce over 400 training films for the Army Air Force until he was relieved of duty in December of 1945. Then, he returned to acting.
While he was still in the military Reagan was elected to the Board of Directors of the Screen Actors Guild (SAG) in 1941. He rose to the office of President of SAG in 1947 and served as Guild President through 1952 and again in 1959.
During his term as Guild President he led the Guild through several labor and management disputes.
He also testified before the House of Un-American Activities Committee. He was fervently anti-communist, and he provided the FBI with the names of individuals who he believed were possible communists.
He married actress Jane Wyman in January, 1940, had two children - Maureen and Christine (who only lived one day). They also adopted a third child - Michael. Wyman filed for divorce in 1949 citing her husband's distraction from their marriage due to his work with the Screen Actors Guild as the reason for the divorce. Their marriage ended in divorce in 1949. He was the first American president to have been divorced.
In 1949 he met Nancy Davis who contacted him because her name appeared on the communist blacklist in Hollywood. She had been mistaken with another actress with the same name. Ronald married Nancy Davis in 1952. They had two children - Patti and Ron.
Before World War II, Reagan was a strong supporter of the Democratic Party, Franklin D. Roosevelt and the New Deal policies.
Reason for Becoming a Republican
When Ronald Reagan began his political career in the 1950s, he was the official spokesperson for the GE Company, preparing and giving speeches on GE's behalf. He professed to be a liberal Democrat and was a member of the Democratic Party at that time, even though many of his stances and views were supportive of Republican ideals. Additionally, he openly supported the candidacies for presidential nominations for both Dwight Eisenhower and Richard Nixon.
He gave many speeches for the GE company, most of them being written from a non-partisan point of view, though they were often big-business friendly and conservative in nature.
Because of his acting experience, Reagan delivered most of these speeches via the platform given to him by GE in the form of his show, which was cancelled in 1962 when GE dropped him as a representative.
By 1962 he had already recorded a spoken word album condemning socialized medicine, along with backing Republican candidates, and had decided to make the official change from liberal Democrat to Republican.
Reagan endorsed Barry Goldwater for United States President in 1964 and gave several televised speeches for him. When he delivered his "Time for Choosing" speech, he raised over $1 million dollars for the Goldwater campaign.
In his speech, Reagan spoke fervently about his belief in a smaller government, condemning the use of coercion and force by governments as a means of controlling the public stating,
so we have come to a time for choosing.
Even though Goldwater did not win, many people liked what they saw in Reagan.
He switched to the Republican Party because politics and his views shifted and his ideals and political beliefs were more in line with the Republican viewpoint.
When Ronald Reagan was asked why he left the Democratic Party, he simply stated,
I didn't leave the Democratic party, the Democratic Party left me.
After his "Time for Choosing" speech for Barry Goldwater put him on the political map, Reagan was nominated by the California Republican Party in 1966 to run for Governor of California. His campaign stance was "making the welfare bums get back to work." His conservative ideals resonated with Californians, and he defeated the incumbent and well-respected Democrat Edmund G. "Pat" Brown.
Ronald Reagan was sworn in as the Governor of California on January 3, 1967. He served two terms through 1975.
As governor, he initiated budget cuts and other social reforms. During his second term as governor many changes were made in the welfare laws in California.
President of the United States
In 1968, while Governor of California, he ran for President as a means of stopping Nixon from entering office, coming in third.
He then made a serious run for president in 1976, when he lost to incumbent opponent Gerald Ford. In 1980 Reagan ran for the presidency again, this time winning the candidacy over incumbent Jimmy Carter. He was the oldest president ever to be elected into office at 69 years of age.
Reagan selected George H.W. Bush as his Vice President.
Ronald Reagan was inaugurated on January 29, 1981, served two terms and left office in 1989. At that time, polls showed him to have been the most popular president since Franklin D. Roosevelt.
Ronald Reagan, is remembered by many Americans as a strong leader in times of crisis, a man whose speeches inspired hope and perseverance, and whose presidency embodied a time now known as the Reagan Eighties.
During his service, the economy improved and the Cold War ended. He is particularly remembered for his economic reforms and recovery acts as well as his anti-communist stance on foreign policy. He stimulate the economy, created more jobs, and strengthened the nation's defenses.
He initiated economic reforms, called "Reaganomics," which spurred economic growth by cutting taxes and government spending and regulating business. These reforms were also designed to provide jobs and lower inflation.
He was a strong military Commander in Chief and used the military to fight international terrorism.
His attitude towards defense was "peace through strength." He increased defense spending while improving relations with the Soviet Union.
When Libya was found to be involved in an attack on American soldiers, which happened in a West Berlin nightclub, Reagan sent bombers to Libya.
During the Iran-Iraq war, he ensured the free flow of oil by sending naval ships to the Persian Gulf.
He survived an assassination attempt in 1981.
During his second term in office, he revised the income tax code, which lowered the number of deductions, resulting in millions of people with low incomes being exempt from paying taxes.
In addition to his "Time for Choosing" speech for Barry Goldwater, Reagan made many monumental and influential speeches over the course of his life showing his commitment to peace and freedom including:
The June 6, 1984 speech to commemorate the 40th Anniversary of the Normandy Invasion/D-Day
The men of Normandy had faith that what they were doing was right, faith that they fought for all humanity, faith that a just God would grant them mercy on this beachhead, or on the next. It was the deep knowledge -- and pray God we have not lost it -- that there is a profound moral difference between the use of force for liberation and the use of force for conquest. You were here to liberate, not to conquer, and so you and those others did not doubt your cause. And you were right not to doubt.
The June 12, 1987 speech at the Berlin Wall - "Tear down this wall!" a challenge to Soviet Union leader Mikhail Gorbachev to destroy the Berlin Wall.
Other speeches and quotes show his wit and intelligence:
It's true hard work never killed anybody, but I figure, why take the chance?
(When someone asked him how an actor can be president) - How can a president not be an actor?
I have wondered at times what the Ten Commandments would have looked like if Moses had run them through the U.S. Congress.
(Spoken to his wife after the assassination attempt) - Honey, I forgot to duck.
Life is one grand, sweet song, so start the music.
In 1994, after Ronald Reagan had been out of office for over five years, he received the news that he had Alzheimer's Disease. He and Nancy addressed the public with this news, which would result in a public outpouring of grief and support.
The disease slowly progressed, until Reagan's death at home on June 5, 2004 in Bel Air, California at the age of 93 after a 10-year battle with Alzheimer's disease.
For a time perspective of the details of Ronald Reagan's life, check out the Ronald Regan Timeline on YourDictionary.