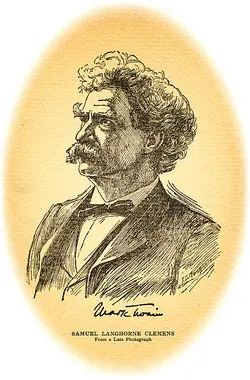 Mark Twain was the pen name of Samuel Langhorne Clemens, and he was one of the greatest American authors and humorists of the late nineteenth and early twentieth century. While many people know Mark Twain's stories, you may not know as much information about the life of Mark Twain. The details of his childhood and life show a character with many accomplishments.
He was born Samuel Langhorne Clemens on November 30, 1835 in the town of Florida, Missouri. That was two weeks after Halley's Comet appeared in its closest approach to the Earth.
His father was John Marshall Clemens, who worked as a Tennessee country merchant. His mother was Jane Lampton Clemens.
He was one of seven children, and the second to last child born. Unfortunately, a number of Twain's siblings died throughout their childhood. Only half of his siblings survived—his brother Orion, his brother Henry, and his sister Pamela.
In 1839, when he was four, his father moved the family to Hannibal, Missouri, a town by the Mississippi River.
In 1846, when he was 11 his father died of pneumonia so he quit school and became a printer's apprentice with the Hannibal Journal to help support his family.
He continued his work at the Hannibal Journal until 1851, during which time he was made a typesetter and contributed articles and humorous sketches.
Even though he didn't go to school as a child for very long, he knew that no matter where he went in life, he could still educate himself by life experiences and by reading at the library during the evening.
From the ages of 18 to 22 he worked as a printer, traveling from Missouri to New York, Cincinnati, Philadelphia and St. Louis.
When he was in St. Louis he became fascinated with river boating. He became a steamboat pilot in 1859 after befriending Horace E. Biby, a steamboat pilot, and memorizing over 2000 miles of riverbed.
From his experience as a licensed river pilot, he chose the pen name by which he his best known - Mark Twain. The term "mark twain" means it is safe to sail because the water's depth is two fathoms, or 12 feet. "Mark one" is six feet, "mark ta-ree" is 18 feet, and "mark four" is 24 feet.
The river trade was negatively affected by the Civil War, so he traveled west to Virginia City, Nevada at the height of the silver rush to become a miner and journalist.
Samuel found work at the Virginia City newspaper and began using the pen name "Mark Twain." Other pseudonyms he used as a writer were Thomas Jefferson Snodgrass, W. Epaminondas Adrastus Blab, Sergeant Fathom, and Rambler.
His first claim to fame was an article "The Celebrated Jumping Frog of Calavaras County" that he wrote in 1865 for the New York Saturday Press. It became an instant success and allowed him to secure a job with the Sacramento Union. The Sacramento Union commissioned him to visit the Sandwich Islands (now known as the state of Hawaii) to write the first of a series of travelogues that became nationally popular. The following year he traveled to the Mediterranean, Europe and the Middle East.
Twain often drew from his life in his writings.
His first book, The Innocents Abroad, was published in 1869.
Growing up in Missouri was the inspiration for The Adventures of Tom Sawyer, published in 1876. Inspired by his youth, Twain penned the clever escapades of a young boy.
A small supporting character became the hero in The Adventures of Huckleberry Finn, published in 1885, which has been called the first "Great American Novel."
Mark Twain had an interesting and diverse literary career. He wrote a total of 28 books along with essays, articles, and short stories.
Four of his books were published after his death:
Mark Twain's Autobiography
Mark Twain's Notebook
Letters from the Earth
Queen Victoria's Jubilee
Mark Twain was thought of as being very wise. Here is a quote from Mark Twain:
"Twenty years from now, you will be more disappointed by the things that you didn't do than by the ones you did do. So throw off the bowlines. Sail away from the safe harbor. Catch the trade winds in your sails. Explore. Dream. Discover."
Personal Life and Interests
During his trip to the Mediterranean, he met his future brother-in-law who, in turn, introduced him to his future wife, Olivia Langdon. He was married within a few short years to Olivia. Through his wife's family he was able to meet many famous people. Her family was wealthy and had liberal views on many issues of the day.
He was married to Olivia for 34 years and they had three children: Clara, Jean, and Susy.
Twain was introduced to leaders including abolitionists, socialists, atheists and political activits. In his life, Twain was very outspoken on issues such as slavery, racism and animal cruelty. He incorporated many of his liberal ideas into his writing.
He loved cats and wanted them around him all the time.
His views on religion were rather different from the views held during his youth when he was brought up as a Presbyterian.
During the last years of his life, he was the vice-president of the American Anti-Imperialist League.
He was born right after Halley's Comet appeared and the comet was scheduled to return in 1910. He told people in 1909,
"I came in with Halley's Comet in 1835. It is coming again next year, and I expect to go out with it. It will be the greatest disappointment of my life if I don't go out with Halley's Comet."
As he predicted, he died on April 21, 1910, of a heart attack, the day after Halley's Comet made its closest pass. He was 74 years old.
Mark Twain Prize for American Humor
Since Mark Twain was known as a humorist, satirist, and social commentator, the Kennedy Center established an award in 1998 for comedy called The Mark Twain Prize for American Humor. The award is given by the Kennedy Center to people who have had an impact on American society like Mark Twain did as a social commentator and satirist.
The other recipients in receiving order since 1998 are:
Richard Pryor
Jonathan Winters
Carl Reiner
Whoopi Goldberg
Bob Newhart
Lily Tomlin
Lorne Michaels
Steve Martin
Neil Simon
Billy Crystal
George Carlin
Bill Cosby
Tina Fey
Will Ferrell
Ellen DeGeneres
Ernest Hemingway gave Mark Twain a great tribute when he said:
"All modern American literature comes from one book by Mark Twain called Huckleberry Finn."
In 1976, an asteroid was named for him: 2362 Mark Twain.
The USPS issued a stamped envelope in 1985 for him and Halley's Comet.