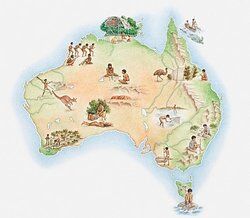 Eddie Koiki Mabo is often thought of as the Nelson Mandella of Australia. For many years he fought for the land rights of the indigenous people of Australia and was a key figure in the landmark "Mabo" decision of the High Court of Australia.
Eddie Koiki Sambo was born June 29, 1936 on Mer (Murray Island) in the Torres Strait between Australia and Papua New Guinea. He was the son of Robert Zezou Sambo and Annie Mabo.
His mother died in childbirth after which he was adopted by his mother's brother, as was the custom. He changed his name to Eddie Koiki Mabo after he was adopted by his uncle Benny Mabo.
He went to primary school on Mer where he learned English. When he was sixteen he was exiled to the mainland by the elders based on a romantic entanglement.
In 1959, when he was 23, he married Bonita Neehow, a South Sea islander, who was his teenage sweetheart. They settled in Townsville, Queensland had seven children and adopted three more - Gail, Wannee, Eddie Junior, Bethal, Celuia, Ezra, Mal, Mario, Malita and Maria Jessie.
He had many occupations including working on a pearl boat, and as a cane cutter and on the railroad.
From 1967 to 1971 he worked as a gardener at James Cook University in Townsville, Queensland. He enjoyed sitting in on seminars and going to the library to read. He was also called on to lecture students on subjects related to race and culture.
At the age of 31, during a 1974 conversation with two historians from the university, he was surprised to learn that the land and title he thought he owned through land inheritance on Mer was, in fact, owned by the Crown, based on an Australian law that had been in effect since the voyage of James Cook in 1770. From this point on, Mabo vigorously fought for the rights of all Aboriginals.
While living in Townsville he became a spokesperson for the Torres Strait community and helped to found the city's Aboriginal and Islander Health Service. He also was co-founder and director of the Townsville Black Community School for ten years – from 1973 to 1983.
He continued to fight for the rights and interests of his people and refused to submit to the domination of others.
In 1981 he was a speaker at a Land Rights' Conference at James Cook University. An attendee of the conference suggested to Mabo that he should confirm his ownership by inheritance through a land rights court case. In May 1982 Mabo and four other men decided to test their legal claim for ownership of their lands in the High Court of Australia.
Two lawyers were recruited to represent Mabo. It took ten years, but the final decision was that the concept of Terra Nullius (land belonging to no one) did not apply to the land which indigenous people had owned before the first British and white Australian settlers arrived in 1788. The courts ruled that the indigenous people did have ownership of their land and that any questions of ownership of the title should be decided by the Aboriginal or Islander people. This landmark decision is now called "Mabo" in Australian.
Mabo died of cancer January 21, 1992 in Brisbane, Australia, five months before the landmark decision was reached.
In 1995, after the traditional three years of mourning, the family replaced the simple wooden cross grave marker with a marble headstone. Unfortunately the Mabo decision caused Mabo's headstone to be to vandalized and desecrated. His family reburied Mabo on Murray Island, performing a traditional ceremony which buried Eddie Koiki Mabo as a leader.
Mabo was awarded the Australian Human Rights Medal in 1992 in recognition of his participation in gaining justice for the rights of indigenous people. He was also voted 1992 Australian of the Year by The Australian newspaper.
In 2008 James Cook University named it Townsville campus library the Eddie Koiki Mabo Library.
June 3rd is celebrated annually in the Torres Strait Islands as Mabo Day, to commemorate the day the Australian High Court overturned the 200+ years of white domination of land ownership.