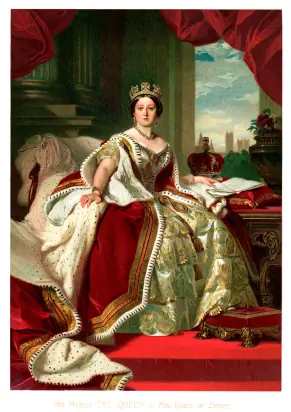 Queen Victoria, who ruled the United Kingdom from 1837 until her death in 1901, had nine children: four boys and five girls. The oldest of Victoria's children was Princess Victoria, the Princess Royal, born in 1840.
Queen Victoria's Children
Victoria and her husband, Prince Albert, raised their extensive royal family within the traditions of classic British monarchical traditions. Eight of their children went on to marry into other royal families. The nine children were:


Victoria Adelaide Mary Louise was the oldest of the children. She was born on November 21, 1840 and died on August 5, 1901. Being the eldest daughter, she was giving the title Princess Royal in 1841. This title is given as a gift of the monarchy. She married German emperor Frederick (Fritz) William of Prussia in 1858 and was given the additional title of Empress of Germany.


Albert Edward, the first-born son, was born on November 9, 1841. At birth he was given the titles of Duke of Cornwell and Duke of Rothesay. A month after his birth, he was given the title of Prince of Wales. In 1863, he married Princess Alexandra of Denmark. During his engagement, he had a scandalous affair with Nellie Clifden, an actress, bringing disgrace to the royal family. He was also said to have many affairs throughout his marriage. When Queen Victoria died in 1901, he became King Edward VII and reigned until his death on May 6, 1910. His reign was called the Edwardian period. King Edward was known as a peacemaker and was a popular ruler who brought strength to the country.


Alice Maud Mary was born on April 25, 1843 and died on December 14, 1878, aged just 35. She married Prince Louis of Hesse-Darmstadt in 1862. Upon marriage, Alice became the Grand Duchess of Hesse-Darmstadt. Alice was a great champion of women's causes and nursing as a career for women. She managed field hospitals and publicized her beliefs, earning many supporters for the movement.


Alfred Ernest Albert was born on August 6, 1844 and died on July 30, 1900. He was given the titles of Duke of Edinburgh and Duke of Saxe-Coburg-Gotha. In 1874, he married the Grand Duchess of Russia, Princess Marie. Alfred was the first royal to visit Australia.


Helena Augusta Victoria was born on May 25, 1846 and died on June 9, 1923. She married a German prince, Christian of Schleswig-Holstein. The couple stayed in England close to Helena's parents. Helena worked as her mother's secretary for many years, and became something of the family figurehead, staying active in various royal events and engagements. She was one of the founders of the Red Cross and, like her sisters, supported the women's nursing movement.


Louise Caroline Alberta was born on March 18, 1848 and died on December 3, 1939. After marrying John Campbell, Marquess of Lorne in 1871, she was given the title of Dowager Duchess of Argyll. Her husband went on to be the Governor General of Canada. Louise was a skilled artist and like her older sisters was a supporter of women's rights. She spent years moving between Canada and Britain, working as the vice-regal consort to her husband. After her husband died, she spent the last years of her life living at Kensington Palace.


Arthur William Patrick Albert was born on May 1, 1850 and died on January 16, 1942. From early on, he had a strong interest in the military. He joined the army in 1866 and in 1874 was named Duke of Connaught and Strathearn. He married Princess Louise of Prussia. Arthur served as Governor General of Canada from 1911 to 1916. He was the Canadian Commander-in-Chief's representative in World War I. He devoted his life to performing royal and military duties.


Leopold George Duncan Albert was born on April 7, 1853 and died at the young age of 31 on March 28, 1884 due to hemophilia. He studied at Oxford University and was a champion of education and the arts in Britain. He was known as the Duke of Albany and married Princess Helen of Waldeck-Pyrmont.


Beatrice Mary Victoria Feodore, the youngest child of Victoria and Albert, was born on April 14, 1857. She died on October 26, 1944. Beatrice spent her childhood as a companion to her widowed mother. Victoria intended for Beatrice to remain unmarried and stay with her, but eventually Beatrice was given consent to marry Prince Henry of Battenberg in 1885. Upon marriage, she was given the title of Princess Beatrice of Battenberg. The couple lived with Victoria for the next 10 years, at which point Henry died, followed closely by Victoria. Beatrice spent the remainder of her life editing her mother's journals and making public appearances on behalf of the royal family.
With the exception of Princess Louise, each of Queen Victoria's children, and many of her 42 total grandchildren, married into various royal families across Europe, creating a web of family connections that spanned the continent and earning Queen Victoria the nickname "the grandmother of Europe."