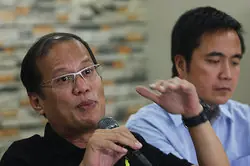 Many people are interested in Ninoy Aquino Jr, especially since the anniversary of his death was proclaimed a national holiday in the Phillippines in 2004. Ninoy Aquino accomplished many things in his life. He was one of the most vocal opposers to Ferdinand Marcos and his death ultimately led to his wife, Corazon Aquino, leading a 1986 "People Power" revolution.
The real name of Ninoy Aquino Jr. was Benigno Simeon Aquino, Jr; but, he is widely known by his nickname Ninoy. Ninoy came from a family with a history of political involvement and his death helped to spur political change in the Philippines.
Benigno Simeon Aquino, Jr. was born on November 27, 1932 in Concepcion, Tarlac in the Philippines, and died on August 21, 1983, in Manila.
He was born into a military and political family. His grandfather, Servillano had served as a general in the revolutionary army. His father, Benigno, or Ninoy Sr., had been a member of the World War II Japanese government of Jose Laurel, serving as vice president.
The Aquinos were wealthy landlords and were honest politicians. Often, they refused payment for their services.
Education and Early Career
Benigno received an education at private schools including Ateneo de Manila, De La Salle College, National University, St. Joseph's College, and San Beda College.
When he was 17, he was a war correspondent to the Korean War for The Manila Times. For his journalism, he received the Philippine Legion of Honor award when he was 18 years old.
At 21, he was a prominent advisor to defense secretary Ramon Magsaysay.
He began to study law at the University of the Philippines. However, instead of receiving a degree, he returned to a career in journalism.
In 1954, Benigno was appointed by President Ramon Magsaysay as a personal emissary to Luis Taruc. Taruc was the leader of the Hukbalahap group of rebels.
A few months later, Benigno secured Taruc's unconditional surrender.
His political career began when he was elected the mayor of Concepcion in 1955 when he was 22 years old. He was the youngest person to ever be a city mayor.
Not only was Benigno the youngest mayor, but also became the youngest vice governor of the nation at the age of 27.
In 1961, he went on to be the governor of Tarlac province. He was 29 years old.
In 1966, he became the secretary-general of the Liberal party.
He set a record again in 1967 by being the youngest ever elected senator at the age of 34.
As the only member of the Liberal Party in the senate, Benigno was seen to be the biggest political threat to Ferdinand Marcos. During his first year he warned Marcos that he was well on the way to establishing a garrison state by his actions, including militarizing the civilian government.
It was only four years before he was proven right and martial law was established.
Aquino was public in his disapproval of the government and Imelda Marcos, whom he said was extravagant. This angered Ferdinand and he called Aquino a liar. While he was senator, Aquino was named an outstanding senator by the Philippine Free Press magazine.
Martial law was declared on September 21, 1972 and Aquino was one of the first to be arrested on made-up charges of murder, subversion, and firearm violations.
He went on a 40 day hunger strike to protest the injustices of his trial, and although he was sentenced to death, his sentence was later commuted, probably because the government did not want to make him a martyr.
After seven years in prison, Aquino had a heart attack. Imelda Marcos visited him in the hospital and told him that the United States offered to send him to the U.S. for surgery if he promised to return and not to speak ill of the government while in the U.S.
In May of 1980, he made the trip to the U.S. and was operated on in Dallas, Texas. He lived near Boston, Massachusetts for three years, writing and making public speaking appearances where he criticized the Marcos government.
In 1983, Benigno Aquino decided to return to the Philippines. On August 21, 1983, he was shot in the head as he left the airplane under guard. An investigation did not find the guilty party or parties. However, after the Marcos government was overthrown another investigation was launched and 16 people were found guilty and sent to prison.
After Ninoy was killed, his wife Corazon's opposition to Ferdinand Marcos resulted in her leading the opposition against Marcos.
In 1985, Corazon ran for president against Marcos, but it was announced in 1986 that she had lost the election.
Aquino believed that she had been the rightful winner of this election and she called for Civil Disobedience to protest the injustice.
The "People Power Revolution" began as a result of her call-to-action. It resulted in Marcos being ousted and Corazon being named the first female president on February 25, 1986.
Ninoy, therefore, made an important contribution not just in life but also in his death.