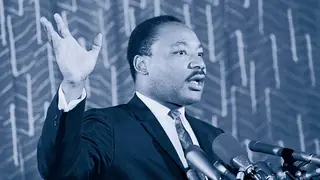 Dr. Martin Luther King, Jr. is one of the most well-known and revered figures in American history. His legacy of nonviolence and civil disobedience has positively affected generations of all races. Take a look at Dr. King's most notable achievements in both his life and his career with a Martin Luther King, Jr. timeline, and see how far-reaching his influence has truly been.
Martin Luther King, Jr: Childhood and Education
The foundation of the civil rights movement came before the 1929 birth of Michael King, Jr. (King's birth name) as racism pervaded the growing United States. However, King's leadership and strong belief in nonviolence would guide the fledgling movement toward policy and government changes. King's childhood, education and early career informed how he would fight for equality later in his life.
Michael King Jr. was born on January 15th to the Reverend Michael King, Sr. and Alberta King in Atlanta, Georgia. At the time, the family had one other child, Willie Christine King (later Christine King Ferris). Later, they would have another son, Alfred King.
Reverend Michael King, Sr. became pastor of Ebenezer Baptist Church after his father-in-law Adam Williams, the previous pastor, died.
Michael King Sr. took a church trip to several countries and was strongly influenced by the history of the Protestant Reformation, particularly leader Martin Luther. He begins to go by Martin Luther King, Sr, which his son follows by calling himself Martin Luther King, Jr. The younger King would go on to legally change his birth certificate from "Michael King, Jr." to "Martin Luther King, Jr." in 1957.
Martin Luther King, Jr.'s maternal grandmother died, leading to an emotional religious crisis for the 12-year-old boy.
King graduated from high school at age 15 after excelling in public speaking and English. An extremely bright and intelligent man, King skipped two grades in high school, which allowed him to start attending Morehouse College when he was 15. King came to terms with his religious identity and embraced his Baptist roots after taking a Bible class at Morehouse.

Martin Luther King Jr. graduated from Morehouse College with a Bachelor of Arts in sociology. He was inspired by the works of Henry David Thoreau and his essay "Civil Disobedience." King went on to study at the Crozer Theological Seminary in Pennsylvania, his first integrated school, and learned about the nonviolent philosophy of Mahatma Gandhi.
On February 25 of this year, King was ordained into the Baptist ministry at the age of 19. He worked with his father at Ebenezer Baptist Church.
King became student body president and graduated as valedictorian of his seminary class, where he earned a Bachelors of Divinity. He began attending Boston University for graduate work and attended philosophy classes at Harvard as an audit student.
Martin Luther King Jr. and Coretta Scott King were married and established their residency in Montgomery, Alabama.
King became pastor of the Dexter Avenue Baptist Church in Montgomery. He continued work on his dissertation.
Leader of the Civil Rights Movement
Martin Luther King, Jr., well-educated and fully versed in the teachings of the Baptist Church, was primed to become a key leader of the Black community in Georgia. Both his seminary work and his early influences of Thoreau and Gandhi would come together to make King the leader that the civil rights movement desperately needed.
Martin Luther King, Jr. became Dr. Martin Luther King, Jr. as he completed his Ph.D in Systematic Theology from Boston University. His first child, Yolanda King, was born.
King joined the Montgomery bus boycott after Rosa Parks was arrested on December 1st for refusing to give up her bus seat, a violation of the state's Jim Crow laws. On December 5th, King was elected president of the Montgomery Improvement Association. He became the official spokesperson for the boycott, which lasted for 385 days.

King's house was bombed on January 30, 1956, during the bus boycott. Bus segregation was ruled illegal in the United States Supreme Court decision Browder v. Gayle (1956). The city of Montgomery lifted the law and prohibited discrimination in public transportation.
In January, Martin Luther King, Jr. created the Southern Christian Leadership Conference (SCLC) with 60 Black ministers from Atlanta. The group's mission was to organize Black churches and train protestors in nonviolence against segregation and racism.
On May 17th, he gave a speech to 15,000 people in Washington D.C. King's second child, Martin Luther King III, was born.
Congress passed the first Civil Rights Act. The SCLC met with Black community members to register them to vote.
King survived a stabbing assassination attempt in Harlem while signing his newly-published book Stride Toward Freedom: The Montgomery Story. He spent weeks in the hospital, but his survival reaffirmed his faith in both God and the civil rights movement.

King left his position as pastor at the Dexter Avenue Baptist Church to continue his work with the SCLC. He and his wife Coretta traveled to India at the invitation of Prime Minister Jawaharial Nehru. They visited Gandhi's birthplace, met his family and further studied his nonviolence techniques.
King moved back to Atlanta to lead the Southern Christian Leadership Conference and became co-pastor with his father at Ebenezer Baptist Church.
King was arrested during the October 19tg lunch counter sit-in in Greensboro, North Carolina, along with 36 other nonviolent protestors. He was supposed to spend four months in jail; however, John F. Kennedy and Robert Kennedy were able to get him released from jail.
Martin Luther King Jr.'s third child, Dexter Scott King, was born. King convinced the Interstate Commerce Commission to prohibit segregation on public transportation going between states.
The Congress on Racial Equality (CORE) started their first Freedom Ride in a bus through the Southern states. On December 15th, King and many more protestors were arrested for their roles in the Albany desegregation movement.
King returned to Albany and served three days of jail time. He was bailed out by friend and fellow clergyman Billy Graham.
He helped to form the Gandhi Society for Human Rights and served as its present. He called on President Kennedy to issue an executive order for a Second Emancipation Proclamation, but Kennedy did not do so.

Martin Luther King, Jr. was arrested for the 13th time in April with Ralph Abernathy in Birmingham Alabama for demonstrating without a permit. He spent eleven days in jail, during which he wrote the Letter from Birmingham Jail. The Birmingham campaign became a major turning point for the civil rights movement resulting in the desegregation of the schools and retail establishments.
In June, King led over 125,000 people on the Freedom Walk in Detroit. The March on Washington occurred August 28th, and King made his famous I Have a Dream speech to 250,000 people, which set records for the largest gathering of protestors in the city's history.
King was declared Man of the Year by Time magazine. His youngest child, Bernice King, was born.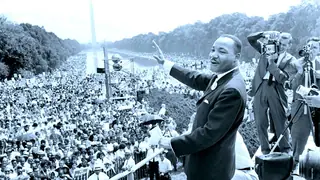 King met with Malcolm X on March 8th to discuss their opposing views to the civil rights movement. Malcolm X was assassinated less than one year later.
King attended the July 2nd signing of the Civil Rights Act of 1964 at the White House in Washington. On December 10, at the age of 35, King became the youngest person ever to receive the Nobel Peace Prize for his role in the civil rights movement.
King was arrested in February while demonstrating for voting rights in Selma, Alabama. On March 7th, a planned March from Selma to Montgomery to encourage the signing of the Civil Rights Act became a violent attack by police, resulting in the name "Bloody Sunday." King was not in attendance, but many other prominent civil rights leaders were.
Two days later, on March 9th, King led 2,500 marchers to finish the walk and kneel in front of police before turning back.
Another march with 2,000 people occurred in the same place on March 21st. The protest group grew to 25,000 people, who watched King deliver his inspiring How Long, Not Long speech. Five months later, President Lyndon B. Johnson — who supported the peaceful protests with U.S. Army troops and the Alabama National Guard for the protestors' protection — signed the Civil Rights Act.
King worked to expand the civil rights movement in areas outside the Southern states. In January, King and Ralph Abernathy moved into a Chicago slum tenement in order to bring to light the housing problems that the Black community faced.
In June, Martin Luther King Jr., along with other individuals, started the March Against Fear in the South. They formed a coalition with the Coordinating Council of Community Organizations (CCCO). An August march in Chicago nearly became a riot as locals attack the civil rights protestors.
Seminary student Jesse Jackson became the leader of the civil rights movement in the South.
The Supreme Court upheld the 1963 Birmingham conviction and King spent four days in the Birmingham jail.
King delivered the speech Beyond Vietnam: A Time to Break Silence against the war in Vietnam. It reflected his long-held beliefs in the power of nonviolence.
In November, the Poor People's Campaign began. It was targeted at people who were facing poverty.

King announced that the Poor People's Campaign would march on Washington to demand support of the $12 billion Economic Bill of Rights which guaranteed employment, income to those who were unable to work and the end of discrimination.
King marched in support of sanitation workers in Memphis. He delivered the I've Been to the Mountaintop speech in Memphis on April 3rd, the night before his assassination.
On April 4, King was shot while standing on the balcony at his hotel, and later died. His death was followed by riots in 130 U.S. cities. His funeral took place on April 9th and had international attendance.
The Legacy of Martin Luther King, Jr.
Although the life of Martin Luther King, Jr. was cut tragically short at 39 years old, his influence endured long after his death. In 1983, President Ronald Reagan proclaimed Martin Luther King, Jr. Day in January to be a federal holiday. It was first observed in 1986 in several states, and in 2000, the holiday was observed nationwide. The Martin Luther King, Jr. memorial was dedicated in Washington D.C. in 2011.

An Undying Influence of Nonviolence