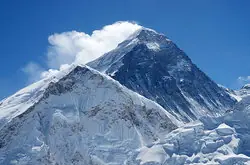 The timeline of Edmund Hillary's life shows a mountain climber and explorer who was also a humanitarian and philanthropist. He is best known for being one of the first climbers to get to the summit of Mount Everest, one of his greatest accomplishments.
To say Sir Edmund Hillary led a long and adventure-filled life would be an understatement.
On July 20, 1919, Edmund Percival Hillary was born in Auckland, New Zealand. His father was Percival Augustus Hillary; he went by "Percy." His mother was Gertrude Hillary (maiden name Clark).
Hillary's family moved to Tuakau, a smaller town south of Auckland. Edmund's father had been allocated eight acres of land as a returned soldier of the 15th Regiment.
At the age of 16, Hillary went on school trip to Mount Ruapehu and is exposed to climbing for the first time. He is quoted as saying that he "wanted to see the world." He went on to attend Auckland University College, but dropped out after two years.
Hillary completed his first major climb. He reached the peak of Mount Ollivier in the Canterbury Region of New Zealand with his friend Tenzing Norgay. The summit of Mount Ollivier has an elevation of 6,342 feet (1,933 meters).
Hillary climbed to the south ridge of Aoraki to Mount Cook, New Zealand's highest peak. The official height is currently listed as 12,218 feet (3,724 meters), but the South Peak is only 11,788 feet (3,593 meters).
Hillary went to Switzerland to climb in the Swiss Alps. It was there that he ascended Jungfrau (4,158 meters or 13,642 feet).
Hillary participated in a reconnaissance expedition to Mount Everest.
Hillary was part of the British team that tried unsuccessfully to climb the Cho Oyu, the sixth highest mountain in the world at 26,864 feet above sea level.
On May 29, Hillary and Norgay became the first climbers to reach the summit of Mount Everest. It was this same year that Hillary was knighted by Queen Elizabeth and became Sir Edmund Hillary. He also married Louise Mary Rose in 1953.
Hillary joined the Commonwealth Trans-Antarctic Expedition to become the first group that crossed Antarctic over land, via the South Pole. Hillary was the first man to reach both of the poles of the Earth.
His wife Louise and his daughter Belinda were killed in an airplane crash.
Hillary led a group of explorers to trace the route of the Ganges River from the Himalayas to the mouth of the river.
He founded the Himalayan Trust to finance humanitarian efforts for the Sherpas including building schools and hospitals and helping in conservation efforts.
Hillary was appointed the New Zealand High Commissioner to India.
Hillary married June Mulgrew.
Hillary's son Peter climbed to the summit of Mount Everest.
Hillary's picture appears on the New Zealand five dollar note, making him the first New Zealander to appear on money during his lifetime.
On January 11, Hillary died at Auckland City Hospital due to heart failure. A state funeral was held, and then his body was cremated. Most of the ashes were scattered in the Hauraki Gulf in Auckland, while some were sent to a Nepalese monastery near Mount Everest.
The Hillary Trail was opened in the Waitakere Ranges near Auckland in Edmund Hillary's honor.
Interested in learning more facts about Edmund Hillary's life? Have a look at the article linked there for a deeper dive into his fascinating adventures, explorations and achievements.