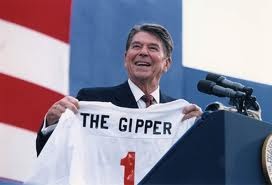 Ronald Reagan is called the "Gipper" because of a part he played in the movie, "Knute Rockne, All American."
Source of the "Gipper" Nickname
Ronald Reagan starred in many movies before beginning his political career. He got the nickname of the "Gipper" when he played the leading role in "Knute Rockne, All American" in 1940, portraying George Gipp, a college football player.
George Gipp
George Gipp (1895-1920) was an athlete at the University of Notre Dame from 1917 to 1920. He started as a baseball player, but was convinced to play football by Coach Knute Rockne. He played both offense and defense, and many of the records that he broke during that legendary season are still standing today.
During one of the last games for the Fighting Irish, Gipp developed a throat infection and died a few weeks later at the age of 25. He told Coach Rockne on his deathbed, "Some time, Rock, when the team is up against it, when things are wrong and the breaks are beating the boys - tell them to go in there with all they've got and win just one for the Gipper. I don't know where I'll be then, Rock. But I'll know about it, and I'll be happy."
It is believed that the phrase, "That one was for the Gipper" was spoken by Jack Chevigny after he made a touchdown in 1928, inspired by the story told about Gipp by Coach Rockne.
Ronald Reagan
Ronald Wilson Reagan lived from February 6, 1911 to June 5, 2004. He was born in Tampico, Illinois, and upon graduation from Eureka College, worked as a radio sports announcer.
In 1937, he had a screen test which started his career as an actor. Over the next twenty years, he performed in 53 films. He had two separate stints as the president of the Screen Actors Guild, and then got involved in politics.
He was elected Governor of California in 1966 and President of the United States in 1981.
Reagan as President
Ronald Reagan was inaugurated on January 29, 1981. As president, he initiated economic reforms, called "Reaganomics," which spurred economic growth by cutting taxes and government spending and regulating business. These reforms were also designed to lower inflation. He survived an assassination attempt in 1981, but took it in stride and continued stimulate the economy, create more jobs, and strengthen the nation's defenses.
During his second term in office, the income tax code was revised, which lowered the number of deductions and millions of people with low incomes were exempt from paying taxes.
His attitude towards defense was "peace through strength." He increased defense spending while improving relations with the Soviet Union. When Libya was found to be involved in an attack on American soldiers, which happened in a West Berlin nightclub, Reagan sent bombers to Libya. Reagan declared war against international terrorism, sending American bombers against Libya after evidence came out that Libya was involved in an attack on American soldiers in a West Berlin nightclub. During the Iran-Iraq war, he ensured the free flow of oil by sending naval ships to the Persian Gulf.
Reagan left office in 1989. At that time, polls showed him to have been the most popular president since Franklin D. Roosevelt. He was know to have persevered to do his best in all things, characteristics of George Gipp, another reason that Reagan was called the "Gipper."
He died in 2004 at the age of 93.