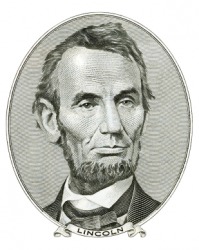 The Civil War was a period in American history that pitted state against state, North against South, and brother against brother. Opinions on both sides were heated, particularly about the issue of slavery. Some states abolished ownership of people; other states proudly proclaimed themselves to be "slave states." In the end, the North was victorious, and the Confederacy's Robert E. Lee met with the Union's Ulysses S. Grant to work out the terms of surrender on April 9, 1865. Despite the end of the war, John Wilkes Booth assassinated Abraham Lincoln, the sixteenth president of the United States, on April 15, 1865.
Why John Wilkes Booth Killed Abraham Lincoln
When Lincoln was elected to his first term as president, in 1860, Booth's career was taking off. At 22, he was a successful actor and a decided supporter of the southern way of life.
By 1864, the year Lincoln was elected to his second term, Booth decided to take matters into his own hands. At first, he planned to kidnap Lincoln. He had made a number of appearances at Ford's Theater in Washington, D.C., and Lincoln had even been in the audience for at least one performance.
The purpose in kidnapping would be to trade Lincoln for several key Confederate prisoners of war. By 1864, the Rebel Army was clearly losing the war, and Booth wanted a way to both send a message to the Union and to encourage the Confederate troops.
Ultimately, Booth decided to kill Lincoln, and planned also to kill General Ulysses Grant, Secretary of State William Seward, and Vice President Andrew Johnson. On the day of the assassination, events did not unfold as Booth hoped.
Grant was not at his scheduled destination because of changes in his travel plans.
Seward was injured by one of Booth's accomplices while lying in his bed at home, but he survived.
Johnson was uninjured because his would-be assassin was afraid to carry out the attempt.
Reasons for the Scheme
Why would Booth create such a deadly scheme? Historians speculate that he was trying to re-energize the Confederacy by taking out the leaders of the Union. However, the plan would not have worked even if all four men had fallen victim to Booth's plot.
The Confederacy was out of money, their army had been significantly reduced, and they lacked the political and social infrastructure to continue the war.
Others suggest that John Wilkes Booth was trying to move Vice President Andrew Johnson into office. Johnson was from Tennessee, but he rejected secession and stayed with the Union rather than join the Confederate government or military. Some southerners thought that Johnson would be open to Confederate ideals by virtue of his origin, and that he may also deal gently with the South in reconstruction now that the war was over.
Lincoln planned to work fairly with the South, as was evident in Grant's reception of Lee at Appomattox Courthouse. The elder Lee was given the greatest kindness and respect by Grant, his staff, and the surrounding Union Army, as the effort was intended to reunite the states, not to humiliate the south.
History records that Booth thought Lincoln was despotic, and so sought to remove him from office. In fact, immediately after shooting Lincoln assassination, Booth shouted "Sic Semper Tyrannis," which means "thus always to tyrants." If Booth sought to remove the tyrant, the assassination succeeded, but it also made Lincoln a martyr and further immortalized him as a hero while moving public sentiment against Booth, the assassin.
Background on John Wilkes Booth
Booth was brought up in a household of successful actors. His father, Julius Booth, was a well-known Shakespearean actor both in Europe and in the United States. The Booths lived in Maryland, which was a slave state. Booth went to a military academy in Maryland and then became an actor. He lived two years in Philadelphia, which was a free city in a free state, then moved to Virginia, a slave state, to pursue his acting career.