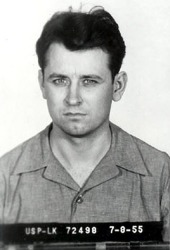 The assassination of Martin Luther King, Jr. was one of the saddest tragedies in American history. Martin Luther King represented hope and change for the country, and he was killed before his dreams and goals were realized. Yet, how much do you know about the man who killed him?
James Earl Ray and Martin Luther King Jr.
Although James Earl Ray died pronouncing his innocence, there is irrefutable evidence that he was the killer.
Ray was a racist, and he most likely killed Martin Luther King, Jr. because King was a representation of African American hope in the country. Ray most likely disliked the changes and advancements that were being granted towards African Americans, and may have thought that if he killed one of the leaders of the movement, he could stop the change. However, Ray was mistaken, because Martin Luther King, Jr.'s death only further accelerated the development of African American rights in the country. King became a martyr for the cause.
At first, Ray confessed to the crime on March 10, 1969. However, three days later, he attempted to recant this confession. In his first trial, he pleaded guilty. He was sentenced for ninety-nine years in prison. However, Ray stated that he took the guilty plea on the advice of his lawyer. In fact, he stated, he was not guilty.
He attempted to blame the crime on a different man that he met in Montreal and said that this man was deeply involved in the crime. He also tried to link his brother to the assassination. Ray spent the remainder of his years in prison trying to withdraw his original plea and receive a new trial.
Although Martin Luther King, Jr.'s death was one of the greatest tragedies of American history, we can honor his memory by continuing the fight for equality.
Background on James Earl Ray
James Earl Ray was born on March 10, 1928. He grew up in Alton, Illinois. His family was poor, and thus his childhood was one of poverty. When he was fifteen, he left school and subsequently joined the United States Army. He joined the Army during World War II, and he spent his service in Germany.
After the war, he turned to a life of crime. In 1949, he was convicted of burglary in California. Although it is unknown if this was his first crime, it was the first crime of which he was convicted. In 1952, he then served two years in prison. This time in prison was for the armed robbery of a taxi driver in Illinois.
In 1955, he was convicted of mail fraud. He continued his life of crime, and in 1959, he was convicted of another armed robbery. This time the armed robbery was in Missouri.
In 1959, he was sentenced to twenty years in prison for multiple and repeated offenses. Unfortunately, in 1967, he was able to escape from prison. He accomplished this by hiding inside a truck that was carrying bread from the bakery in the prison.
Shooting of Martin Luther King Jr.
Martin Luther King, Jr. was in Memphis, Tennessee on April 4, 1968. He was staying at the Lorraine Motel in room 306. In the evening, Martin Luther King was standing on the balcony, when he was struck by a bullet. He was hit in the neck by a single bullet that was shot by James Earl Ray. He was then rushed to the Saint Joseph Hospital.
Although doctors attempted to save his life, he was pronounced dead shortly after his arrival. Martin Luther King was only thirty nine years old at the time of his death.
Martin Luther King's death resulted in multiple riots throughout various cities of the United States.